I love writing flash fiction. Just check out my Tuesday posts and that'll be quite clear. So when #FlashFicHive arrived on the scene in June I was ecstatic. So let's find out what #FlashFicHive is all about and who's behind this fun Twitter game.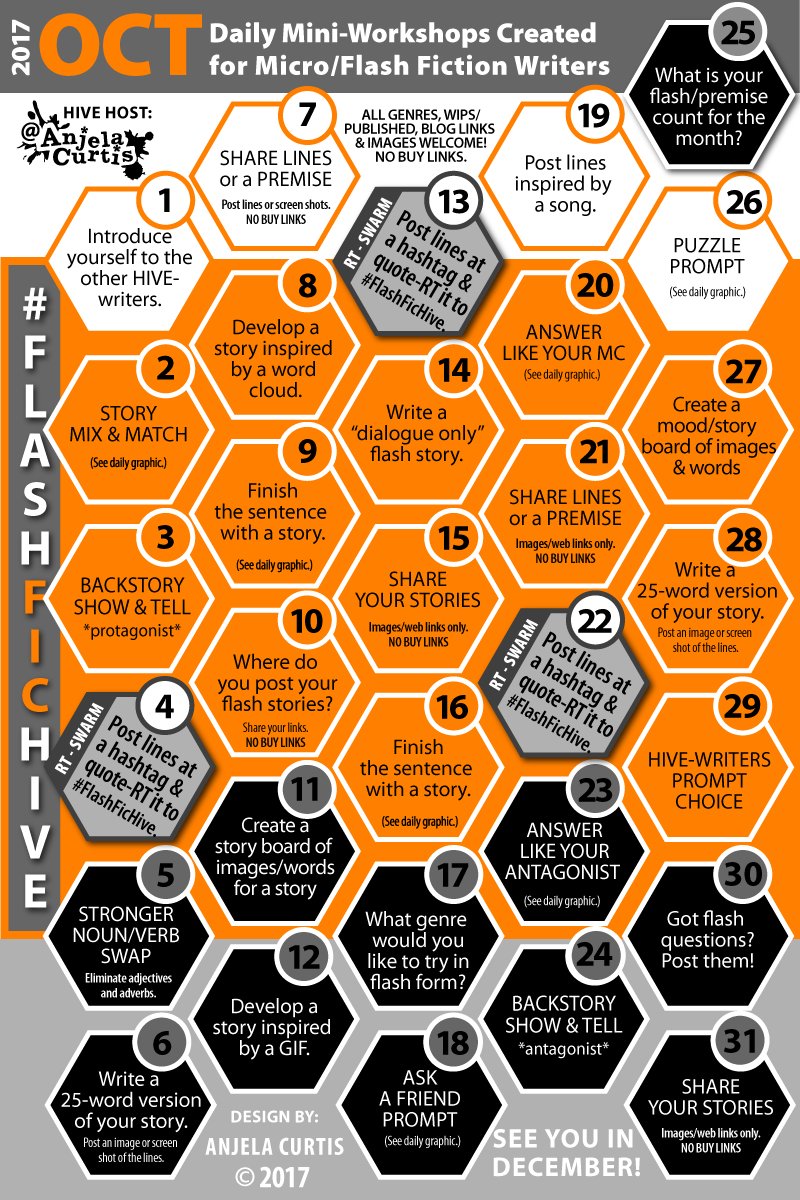 What is #FlashFicHive?
#FlashFicHive is a bi-monthly writing challenge that provides writing prompts and activities created to inspire ideas and encourage the writing of flash and micro-fiction.
Where did the idea come from to create #FlashFicHive?
The impetus was to create a monthly writing challenge exclusively for flash fiction writers in the same vein as other great monthly writing challenges on Twitter, like #WIPJoy and #AuthorConfession.
Who is your favourite flash fiction writer?
I have to say Aesop of Aesop's Fables. Those are short stories with their cleve morals are stories of which I never grow tired.
What inspires your flash fiction?
As is evident in the prompts I create, I like to pull inspiration from everywhere. Inspiration can come from a line of poetry, an image, a song lyric, an overheard conversation, a gif, and even a game or puzzle.
Where can we read your flash fiction?
Much of my flash fiction can be found on my twitter page (@anjelacurtis) and on my website (www.anjelacurtis.com).
What's in store for #FlashFicHive participants?
I'm still trying to find the balance between prompts that induce story creation and prompts that provide writing development. I'm hoping that this month I will have found the right formula.
Any tips for new flash fiction writers?
Just jump in feet first and see what happens. Naturally, the short format of flash fiction requires quite a few adjustments if one is use to writing longer formats. However, flash fiction is so beneficial in and of itself as well as a means to improve one's writing.
Which Twitter writing-hashtag-games inspire you?
There are so many. However a few that have helped me or continue to inspire ideas are: #AuthorConfession, #WIPJoy, #TalesNoir, #Word2Show, and #Lovelines…to name a few.
What do you wish other writers knew about #FlashFicHive?
That it's not as intimidating as it looks. That they are welcome to participate at will or dive in and out as their schedule or inspiration allows. It's really low-key.
What is your writing avatar? (Any animal, anime character, etc.)
I don't have one. But, if I did…it would probably be of a dolphin or a mermaid.
Anjela Curtis is a creative professional who hails from the Midwest by way of Florida. Once a newsroom graphic artist for her local newspaper, she now puts her background in fine arts, English literature, and graphic design to use as a freelance designer and nationally published writer.
Her leap into fiction began with her first NaNoWriMo in November of 2016. She's been working on her urban fiction novel, Dark Waters of Evening (#ADarkWaterNovel) and writing flash fiction in several genres ever since.
Her mission in life is to set a positive example for her young daughter and prove that a creative mind is the most powerful characteristic a woman can possess.
You can find Anjela on
Twitter: @anjelacurtis / @FlashFicHive
Facebook: @anjelacurtis (facebook.com/anjelacurtis)
Instagram: @anjelacurtis
and her website: www.anjelacurtis.com
Do you have any questions for Anjela? Do you write flash fiction?
Sign up for my newsletter and receive a free ebook. I won't share your information and I'll only email you once a month with updates on new releases, special offers, and a bit of news.