I've been thinking about this one for a while. Perhaps because I read an interview earlier this year with literary agent Mark Gottlieb on the Insecure Writer's Support Group blog where he mentioned Goodreads in the same sentence as Instagram and Twitter as an important part of an author's platform (and the blog, of course). Or it can even have something to do with seeing the Goodreads Reading Challenge on a couple of blogs I follow.
So I joined Goodreads on Friday – after doing a lot of research. Besides, it's time to add something new to my Author Platform seeing as I've mastered everything else I'm using. LOL. (Or sobbing pitifully.)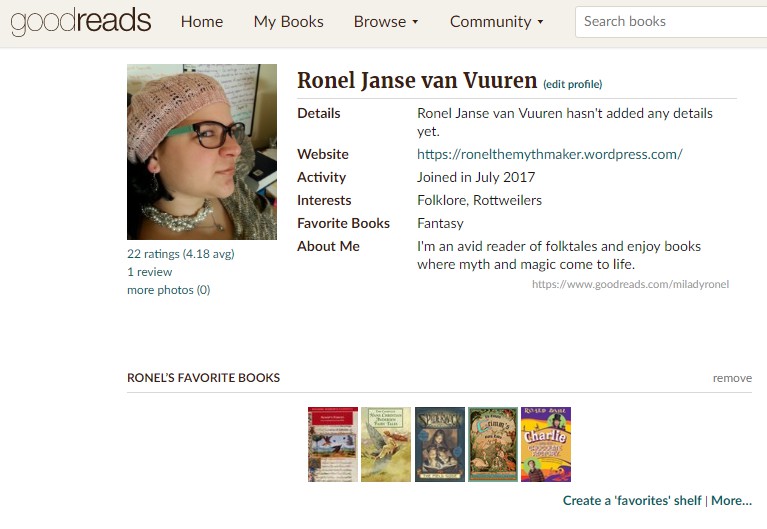 Let's start with what Goodreads is.
Goodreads is the world's largest site for readers and book recommendations. Our mission is to help people find and share books they love. Goodreads launched in January 2007.
Every member of Goodreads has a user profile that allows him or her to review books, add friends, and post information about themselves, including listing their favorite books and authors and their interests. Users can also upload photos, organize their books into custom shelves, and post quotes they like. When an author signs up for Goodreads, he or she begins with this basic user profile.
What my research boiled down to was this:
In the 2013 interview "Goodreads For Authors with Patrick Brown" on the Creative Penn this stood out: You should be a reader first and be an active part of the reader network. 
In "The Ultimate Guide To Goodreads For Authors" by Joanna Penn I found this the most helpful: The key here, as with every social network, is to give more than you expect to receive and be both helpful and useful to others. 
Naomi Blackburn shared her "Dos and Don'ts of Goodreads" on the BadRedhead Media blog.
Goodreads is all about relationship building and networking. You can't simply join a group and then stop by every so often to check on what they are reading. You have to make friends, participate in group discussions, and let readers get to know you. This doesn't mean posting the name of your book on a discussion thread and saying read my book or even worse – buy my book. There is a Goodreads etiquette and unless you abide by it, you will be worse than unknown…you will be known as a pushy and obnoxious author.
Developing a friends list is critical on Goodreads. Like all marketing efforts though, it must be done strategically. Bigger doesn't always equal better. Remember Goodreads maxes out your friend capacity at 5,000, so you want every friend to be someone who you truly want to connect with. People who enjoy your genre, people who will someday want to read your book. It may take a bit of searching, but when you do find those friends, they will be well worth having.
She explains exactly how you should go about finding friends – and what you really shouldn't do. It's well worth checking out.
And when you're really ready to have an author profile, go ahead and join the author program. Check out "5 Ways Writers Can Get the Most Out of Goodreads" by Brian A Klems and Patrick Brown. The best advice out of that piece: Use Goodreads to help build your platform.
Every author today needs a platform. By creating a Goodreads author profile, you actually get three major benefits. First, you become part of the Goodreads community, which allows readers to easily check out the latest information about you, see a photo of you, and browse which books you have written. And it allows readers to view the books you've read.
These articles are a little outdated, but the information is still sound.
In the 2016 interview with Frances Caballo, Lisa Tener uncovered some amazing things in "Goodreads for Authors: Why Forbes Calls it The Most Important Networking Site on the Internet & How You Can Benefit!". Besides the staggering number of readers on Goodreads (around 50 million), I also found the rest of the interview interesting.
Lisa: What kinds of big picture goals should authors have for Goodreads? What can it do for them?
Frances: The founder, CEO, and the software engineer who developed Goodreads, started the website for readers and this is a fact that authors need to keep in mind at all times. If authors approach Goodreads with the mindset that they can ramp up friends and promote their books ruthlessly without first proving themselves as avid readers, those writers will fail miserably.
Goodreads can provide visibility for authors and expand readership only after authors prove themselves as readers and members willing to help others in the groups they join.
Lisa: What are some of the things you advise your clients to do when they first get on Goodreads?
Frances: Once you open an account, create your author dashboard. Then start adding the books you've read, rate them, and review them. Categorize your bookshelves by genre and every two weeks add one or more books that you've read.
Lisa:  Are there any benefits to authors outside of book sales?
Frances: Don't sign up for Goodreads if you want book sales. Certainly, book sales can result from being active on Goodreads but an author's approach and goal on Goodreads should at first be singular: prove to Goodreads' members that you're an avid, intelligent reader.
As part of their "Ultimate Guide to Mastering Your Online Author Presence" article, the people at Writers Edit had this to say about Goodreads:
While not a 'social media' platform as such, Goodreads is a great tool to wield when building up your online presence.
You may not have books of your own to put on the site just yet, but in the meantime, you can rate and review others' books. You can also get an idea of the kinds of things readers like and dislike by reading reviews of books in your genre or style.
When you do have books of your own, be sure to sign up to the Goodreads Author Program. Through this program, you can create an author profile and add pages for your books so readers can rate, review, and recommend them.
Goodreads is a great platform for building a word-of-mouth reputations, as it's often the first port of call readers will visit when deciding what they want to read next.
Now that's advice worth following.
Of course I took the best of it all (and looked at a couple of Goodreads profiles) and found what I thought would work best.
My Goodreads Plan of Attack
Write short reviews (±300 words) of all books (specifically YA, MG and fantasy) on shelves. Remember to add which element liked best (e.g. use of scenery. Be specific.).

Only publish a new review every 2 weeks.

Have a Reader profile – will switch to Author one once properly published. (Infiltrate Readers as a Reader to build relationships.)

Read other reviews of book (new review uploaded) and see if have anything in common and befriend. Can have 5000 friends on Goodreads.

Join small groups AS A READER – connect with them on a human and reader-to-reader level.

Have interesting bookshelves.

Go slow – really connect. Defriend spammers – and block if they continue.

Follow all favourite authors and review their books – can follow as many as you like.
Probably not my best plan yet, but I think it will work. Besides adding a link to my blog, I didn't mention anywhere that I'm a writer. Now that was difficult. I friended two blog friends to see how it works – I didn't have a lot of time to hang out on Goodreads. And I even added a review for a book I finished last week.
For those who don't know how to add a review:
1) Navigate to the book's page.
2) Underneath the book's profile picture on the top left, rate the book using the stars.
3) The "want to read" button will automatically be replaced with a "write a review" link. Click that link.
4) Write your review in the review box that will appear and save.
Please note that you have to be a Goodreads member to write a review.
I got that after googling it…
So, you probably want to read my awesome review. Here it is:
The Dark Prophecy (The Trials of Apollo #2) by Rick Riordan
Again the story is told from a no-longer-a-god Apollo's point of view – who has a flawed memory yet entertaining voice. Each chapter starts with a haiku describing what's to come without giving the story away. Apollo (or Lester Papadopoulos as his mortal driver's licence proclaims) is still on his quest to find all the lost ancient oracles in his pursuit to become immortal again.
Though Apollo is charming in his own way, having Leo and Calypso as his companions made me enjoy the book more. Probably because I've liked Leo since we met him in the Heroes of Olympus series. (I'd advise you to read the previous series before starting this one.)
Because the story is fast-paced and monsters from myth keep popping up in unexpected places, the story kept me guessing and was hard to put down.
My favourite part of the book is where Apollo faces the Oracle of this part of the quest. I won't spoil it for those who haven't read it, but it shows not only how setting can be a character all on its own but also how characters can change and grow in unexpected ways. It's really well done.
I'll admit that the evil emperor in this book had me gagging. His brutality knows no bounds. More than once I had to take a break from the book because of his cruelty towards animals. I know this makes him an excellent antagonist as he is not just bad for the sake of being bad, but he thinks he has a higher purpose while making the reader dislike him enough to perhaps set him on fire (or whatever your violence of choice).
For lovers of fantasy, myth and YA/MG fiction, I'll definitely recommend this.
You are very welcome.
Mm… So now you're asking how to write a good review.
How to Write a Good Review
Read the whole book. (Seriously, don't skim. Though, if the book is horrible and you can't finish it, that will be your review.)
Start your review with a couple of sentences describing what the book is about. (Don't give away spoilers or plot twists. Mention if this is part of a series and if reading those that came before is necessary.)
Discus what you liked about this book. (Favourite character? Did the story keep you guessing? Favourite part and why? Etc.)
Mention anything you disliked about the book. (Can be themes, story ending on a cliff-hanger or even a dislike of the main character.)
Bring it all together. (Do not add new information: this part is just to summarise your thoughts and to recommend the book to a specific group.)
Well, that's all I know. If you've been using Goodreads for a while, please share your experiences and advice (I don't even know how to join groups yet!). I think this might be a good way to keep track of books I've read and my massive TBR. What are your thoughts?
Sign up for my newsletter and receive a free ebook. I won't share your information and I'll only email you once a month with updates on new releases, special offers, and a bit of news.