I had an interesting conversation the other day with someone who said that she wanted to be a writer. There was longing in her voice, with wistfulness knowing that with time constraints it wasn't a viable option at this time.
I totally got it. It takes years to become a competent writer. According to Harry Bingham of the Writer's Workshop, most successful writers are merely competent.
So how to get there?
Well, I've already said that the path to writing better is to write a lot. The path to being a writer isn't simply stringing sentences together and publishing an e-book on Amazon: just like surgeons need to study their craft before being allowed to cut, writers need to apply themselves to the study of the art of writing.
I believe the best way to start on this long journey, especially when you don't have the time to immerse yourself in writing courses and the like, is to blog.
How to Blog
Blogging once a week not only ties you to a deadline, it is also a great way to learn how to write.
I know a lot of people believe that one should only blog once a week. I've tried that for a very long time. But after last year's A to Z Challenge, I realised that there was a lot more that I wanted to do with my blog than just the occasional post about writing advice or one like this where I tell my readers what works on which social media network.
In 2016 I wrote a folklore post every Thursday and explored different folklore elements and creatures. I learned a lot about research, writing articles and what I like about folklore for my own writing. It paid off in more than one way. Not only did I gain more readers and followers on my blog, I also wrote more stories.
This year I'm only writing a folklore post every other week – I really need time to focus on my writing. And you know what? My regular folklore readers are more than okay with that. Because I informed them early in January that it would be the new plan.
After adding the Twisted Tale Tuesday feature to my blog in middle 2016, I gained new readers. Most of them probably only come for their weekly dose of flash fiction – and that's awesome. Not everyone wants to read about folklore… or my weird ramblings on a Sunday about writing.
My approach to blogging had changed in the last year or so. Starting with trying to emulate other bloggers and what works for them, to not liking blogging at all, and ending with finding my own blogging voice… It had been an amazing journey. I've made a lot of new writing friends.
So, what works for me?
Keeping to my new blogging schedule, for one.
New Blog Schedule for Ronel the Mythmaker:
Every Tuesday is for #TwistedTaleTuesday (flash fiction pieces I wrote for Microcosms, Cracked Flash Fiction Competition, and other places on the web I'd like to share here on the blog).
The first Wednesday of the month is for #IWSG (the amazing blogging community of writers I've joined to share my writerly insecurities, triumphs and questions with like-minded people).
Every second Thursday is for #FolkloreThursday (folklore creatures or elements are inspected, changed to fit my Faerie World and used in a short story published on Wattpad or writing.com).*
Sundays are for my thoughts about writing, sharing interesting facts about writing, a short story, or giving you a peek into my life as a writer and Rottweiler mum.
*In 2016 every Thursday was dedicated to folklore and a short story.
Taking part in blog hops, for another. (#AtoZchallenge, #IWSG, #cbf16 (Cherished Blogfest) and #NaNoHop had all been great for this blog in 2016 and continues to be in 2017.)
And most importantly? As I said in my blog reflections post:
The most important thing I learned in my first year of blogging is this: always be polite. Whether that means answering comments left on a blogpost/story on Wattpad/etc. or visiting back after someone liked/commented, the point is not to anger the people who were kind enough to leave a comment. You never know when that person could be your new BFF or the one deciding your novel's future…
Well, that's my two cents about blogging.
Oooh! Wait! Something I've picked up about what works on blogs: make sure your readers can easily comment. If you force them to only comment with Facebook or Google+ or whatever, they probably won't. An easy form where they can fill in their details (name, comment, email, website URL) will leave you with a lot more comments and happy readers. Adding a place where they can "like" your post will make the shy ones happy too. Just saying.
There are wise people out there who can tell you everything about the benefits of blogging.
Joel Friedlander has a lot of tips on where and how you should set up your blog, also this:
In my day job, I help authors bring their books to completion and get them ready to go to press, whether it's through a digital print on-demand service, an offset print run, or going straight to e-Books.
One thing that's common with these authors: their dawning realization that after putting in months or years of work—usually in private—to finish their manuscripts, the real work of book marketing has only just begun.
This is one of the reasons I've become involved in author education, because many of these authors have made the exact same mistake: they waited too long to start building an audience for their books.
It Doesn't Have to Be That Way
This is the reason I have the same answer to every author who asks about whether—or when—to start a blog to support their books:
Do you need a blog to help support your book? Yes.
When should you start blogging? Now!
Here's why I always tell authors that now is the best time to start blogging: it takes time to reach the goals that blogging will bring within your grasp, like:
Finding readers who are interested in your subject

Building anticipation for your book

Networking with others in your field

Establishing a base for your social media marketing

Letting potential buyers sample your content, your style and your ideas
Sometimes it's a challenge when you first start out, since blogs have some moving parts you have to get right. But there's lots of help available, and it's possible for anyone who wants to start blogging to be up and running in 30 minutes.
Jane Friedman has an ultimate guide to blogging for authors. Though, as she warns, blogging isn't for everyone.
This will be a strange way to begin a guide to blogging, but I want to save you time, trouble, and heartache: The average author does not benefit much from blogging.
Yet blogging is still recommended to authors as a way to market and promote. Why? Because blogging does work, if certain conditions are met. The problem is that few authors meet those conditions. This post will delve into what it means to blog successfully and in a meaningful way for an author's long-term platform and book marketing efforts.
Blogging is an art form

Blogging is often straightforward for nonfiction writers, less so for novelists

Consistency is critical—you need to make a commitment

It takes patience to build a readership unless you're already well-known

The most successful blogs have a very focused angle and appeal to a very specific audience.
Joanna Penn did an interview with Yaro Starak about blogging and marketing.
Is text blogging and writing online still viable?
I think the simple answer to that is do we still read content on the Internet. I know I do. Even if you find a news article on Facebook or share it on Twitter, it usually goes back to a blog. I'd go on Facebook and I see articles coming from Business Insider, which essentially is a news blog. So then blogging is not going to disappear either.
What may change is the actual interaction we have on the Internet. Right now, it's video, it's audio, it's text. Video is pretty much YouTube and Facebook and Periscope maybe on the apps. Audio is obviously podcasting in iTunes and then text is still pretty much blogs. And the thing I really like to emphasize to people who might be sort of questioning "Is a blog something I need? Can't I just do social media?" or "Can't I just podcast?" or something like that.
If you look at the content source, as in where the podcast originates from or where the content that got shared on social media comes from, it's actually hosted on a blog.
I see the blog as kind of like the center of your universe on the Internet, and then you can use all the other platforms to spread your message and bring people back to the blog, but it all starts at the blogs.
That's often known as the hub and spoke business model. So the hub is in the middle like a wheel and you've got all the spokes coming out of it. The blog is the hub and you have social media, you have podcasting, you have YouTube, you have maybe something like on mobile like Periscope and you might be doing press releases. So all those are spokes that bring traffic back to your blog and then what I do is I bring that traffic from the blog to the email list. That's kind of like phase two, but the blog is absolutely critical.
If you'd like to know more about blogging, check out Anne R Allen's post about the reasons authors should blog.
Getting your name on Google's Radar
Establishing yourself as a digital age professional
Networking with other writers
Controlling your brand
Interacting with fans and attracting readers
And check out Damyanti Biswas's easy steps to get more comments and followers on your blog. 
Blogging Platforms
When I started my blog, I had no idea which platform to use or what a blog should be. It was by mere accident that I read that the leading blogging platforms are WordPress and BlogSpot (Well, back then at least).  I chose WordPress merely because I had no idea that you need a Gmail account to have a BlogSpot blog.
I'm glad I'm on WordPress. In the twenty months (give or take a couple of days) I've been blogging, a lot of bloggers had moved their blogs from BlogSpot (Blogger, if you prefer) to WordPress. No idea why, not my business.
Though there are inquisitive people out there on the web who can give you a good idea why.
The Blogger platform is good when you are looking for a simple blog.
The WordPress platform is amazing when you are opting for professional blogging, creating a business blog, or planning to earn money from your blog.
It's important to figure out why you want to start a blog and then go from there. Blogger has many limitations that WordPress doesn't have. In terms of functionality, there's no question that WordPress is far superior.
If this article convinced you to move your Blogger hosted blog to WordPress, you can read my article on how to get ready for the big move.
The 18 best blogging sites and publishing platforms on the internet today doesn't even have BlogSpot in their list…
Their top 18 (of free and paid for sites):
WordPress (hosted and/or self-hosted)
Pros: Most mature blog platform, stable and highly customizable through plugins and themes.
Cons: Can be complex to configure beyond the basic setup, self-hosting has a high learning curve.
Verdict: If you're new to blogging and want full control over how your site looks and feels, WordPress remains the best choice. It's rock-solid and has been around for a number of years.
Squarespace
Pros: Easy to set up and build a great-looking blog.
Cons: No free plan, only available as a hosted offering.
Verdict: If you want an easy, hassle free blog that's a cinch to maintain and you don't mind spending money, Squarespace is the best choice.
Posthaven
Pros: Posthaven hopes that it'll stick around longer than most alternatives, easy to set up and get publishing.
Cons: Very basic, not offering features that other services offer already.
Verdict: A good choice if you're worried about your blog being around for as long as possible.
Ghost
Pros: Super fast, modern blog platform that's easy to use. The new-comer on the block.
Cons: Ghost is slow to add new features, slightly harder to self-host than WordPress.
Verdict: The best alternative to WordPress, if you don't mind a few missing features.
Kirby
Pros: Easy to build custom themes without extra learning required, simple to use and friendly interface.
Cons: To truly take advantage of Kirby you'll need to know how to code.
Verdict: A great choice if you know some PHP and aren't scared away by having to code.
Medium
Pros: Instant setup, easy to use, fantastic editor.
Cons: Limited customization, no custom domain support and no self-hosting option.
Verdict: If you want a no-setup way to get blogging, this is it. If you want to customize your blog, try something else.
Svbtle
Pros: Dead-simple interface for reducing distractions when writing, popular among the technology community.
Cons: Limited customization, Medium offers more features for free and no mobile app.
Verdict: Great platform for reducing distractions and just writing, however the limited customization options and restricted interface are not for everyone.
Postagon
Pros: Lots of features included with minimal setup to get blogging.
Cons: Limited customization, no mobile app and no new features recently.
Jekyll
Pros: Very customizable, you can use your own editor and build your own themes, handles high traffic levels well.
Cons: You need to know how to code and be comfortable finding your way around a command line.
Verdict: Want to nerd out and build your own blog? Jekyll is the absolute best way to do it.
Contentful
Pros: You're not tied to anyone's interface or development language, instead you can use anything you want.
Cons: It's up to you to build the entire thing.
Verdict: Only for the most adventurous developers.
Anchor
Pros: Free, open-source CMS without the bloat.
Cons: If you don't want the basic theme, you'll need to know how to code.
Verdict: A good choice if you're comfortable building your own site as well as taking care of self-hosting.
Silvrback
Pros: Beautifully designed, easy to use and independent.
Cons: Limited design options, only available in hosted form.
Verdict: It's hard to fault Silvrback; it's an independent blogging platform that's well developed, easy to use and offers a great alternative to the mainstream choices.
Tumblr
Pros: Easy to set up, thousands of theme options available (free and paid), community can help get you started.
Cons: Full of teens and hipsters, not everyone wants social networking baked into their blog.
Verdict: Tumblr makes it easy to get started and meet like-minded people, significantly more so than most traditional blogging platforms. It's easy to get started and makes it easier to find like-minded bloggers, significantly more so than most traditional blogging platforms.
LinkedIn
Pros: You're blogging right where the business audience is, LinkedIn has powerful tools for amplifying your content on its network.
Cons: There are essentially no configuration options and you're blogging on top of a social network so you don't really own your own content. Also, not everyone appears to have access.
Verdict: Want to reach business readers? LinkedIn is a good place to start, but don't expect any fancy options.
io
Pros: Easy to use, setup completed in a matter of minutes, integrates into your existing workflow.
Cons: Fairly limited options, a little odd to work out of Evernote.
Verdict: Love Evernote? Use this.
Scriptogram
Pros: Free, works with Dropbox, easy to get publishing.
Cons: It being free means the company will have to monetize one day, right?
Verdict: It's worth using Scriptogram if you don't mind using Markdown and like not paying money.
Tinypress
Pros: Developer friendly, easy to use and free.
Cons: If you don't know Git, this could get complicated.
Verdict: Nerd out and use this for a fully customizable, but simple, free blog.
Screenshorts
Pros: Easy to just write, no setup required.
Cons: You didn't actually create your own blog.
Verdict: Screenshorts are a legitimate way to blog, but probably not a credible one.
There are a whole lot of confusing words and technologies involved in setting up your own blog, so consider this your glossary. These are the common terms you will run into when trying to set up your own blog.
Hosted
This is usually provided by a company that manages the entire blog for you. All you need to do is sign up and you can start blogging without worrying about setting up your own server or knowing how to code. An example of a hosted service is WordPress.com.
Self-hosted
A self-hosted blog means paying a company like Digital Ocean to rent a server, then downloading some blogging software to install on your own. This option requires some basic technical skills to set up things like a database and custom domain name.
Domain name
The domain name is the URL of your website, or how people can find you online. An example of a domain name is http://www.thenextweb.com or http://www.facebook.com. To get one, you'll usually need to pay a yearly fee to a domain name provider like IWantMyName or NameCheap.
You'll also see references to sub-domains. They're used by third-party services like WordPress or Tumblr so you don't need to buy your own. Here's an example – owenw.wordpress.com.
They explain everything in much more detail and they even tell you why certain platforms weren't on the list. It's very, ah, illuminating.
As for free sites?
Here's an infographic comparing WordPress, Weebly, Wix, Squarespace, Blogger and Tumblr.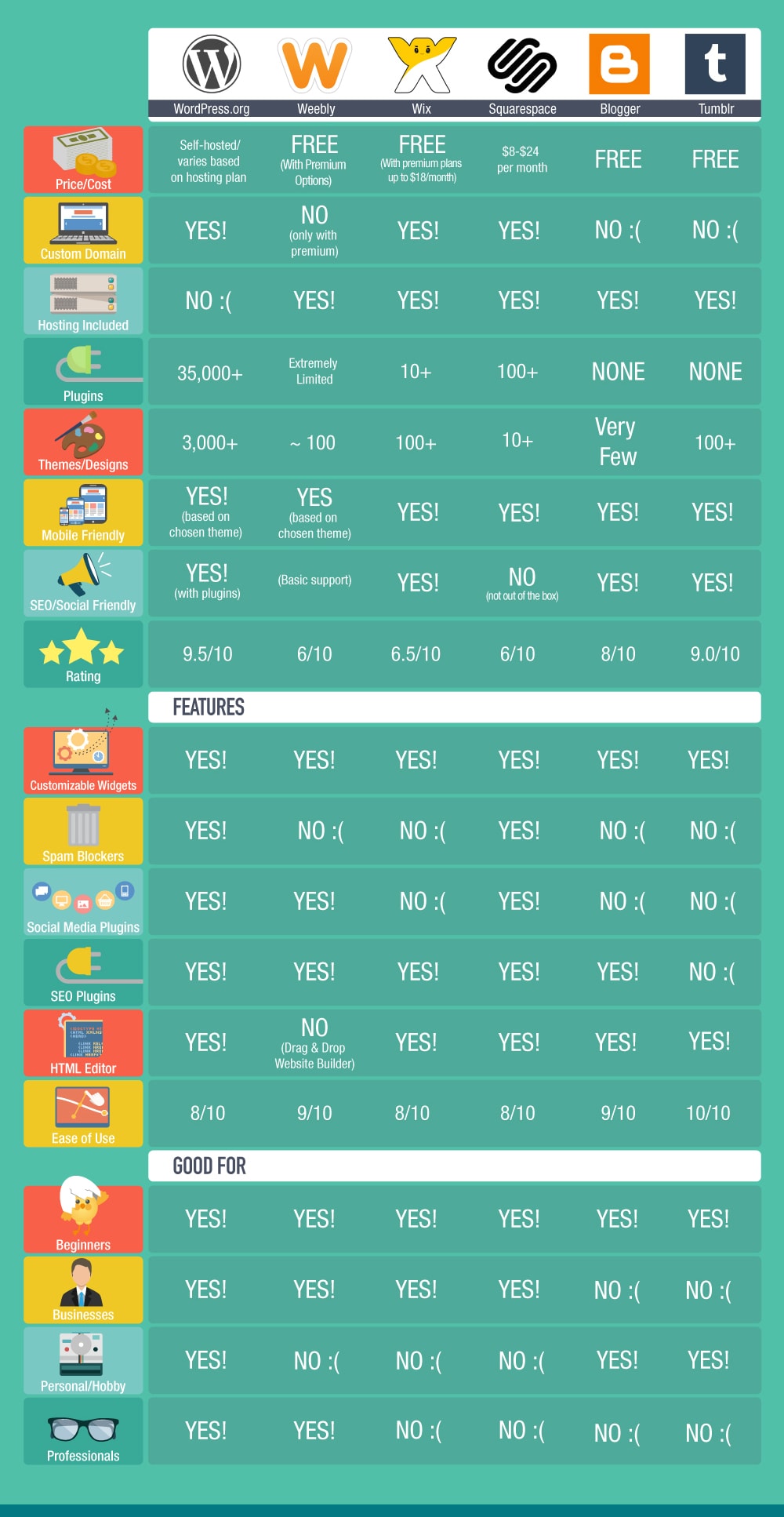 Once you've chosen where to blog, there's still plenty you have to do before launching said blog.
Other Useful Stuff
The only thing I knew about a blog was that the title had to be catchy. A lot of people will tell you to use your name as your blog title and domain name.
Yeah, right. Try remembering Ronel Janse van Vuuren, especially when it looks like roneljansevanvuuren.wordpress or something more gobbledygook like authorroneljansevanvuuren.wordpress and tell me it's memorable.
No. I started with mythmaster.wordpress but quickly thought that to be too presumptuous. Mythmaker has a better ring to it anyway. So I'll add my name. Ronel the Mythmaker. Yeah, that's perfect. It tells you who the author is and mythmaker means: a person who creates myths. And myth: a story about superhuman beings of an earlier age, usually about how natural phenomena, etc. came into existence. Perfect (I write about the Fae, for those who don't yet know). And I even had a tagline ready: Life of a South African Writer.
Jane Friedman suggests that you do the following before you launch your blog:
Blog title and tagline.There are no hard-and-fast rules here, but it should be clear to new visitors what your blog is about and what they're going to get from it.

If your blog is meant to primarily be read, then don't hamper readability by making the text too small, too tight or (worst of the worst) white type on a black background. Be aware that pop-ups, ads, or a bad layout can also hamper readability and drive readers elsewhere.

About page or bio.If your blog content is interesting, people will want to know more about the person behind it. Don't make them search for this. Create a separate page, and be sure to include a way to contact you.
You'll need to decide how difficult it will be for people to comment on your blog, plus you'll need (if only for yourself) some kind of policy on how you'll handle or moderate discussions. Will you approve every comment before it goes live? Will comments be automatically published if they're not spam? An open commenting policy that doesn't require sign-in helps you get more comments, but you'll want to make sure you're receiving email alerts when new comments are posted, just in case you need to delete anything spammy or inappropriate that gets through. Fortunately, major blog platforms (like WordPress) help you streamline your comment system to automatically eliminate spam activity. If you have any trouble, then install Akismet, the industry-standard plugin to eliminate spammy comments.
As for my handle miladyronel – Twitter doesn't like my long surname and @RonelJvVuuren has too many ways to be screwed up. Besides, Milady De Winter was strong and terrifying in The Three Musketeers. And like ones profile picture, ones name should be consistent across the web. If the SEO spiders can figure out that Ronel Janse van Vuuren and miladyronel are the same person, then followers across several social media networks can too (especially since I use both names – see the sidebar).
After creating your blog (check in settings if your domain name is correct, especially after tweaking it a bit), you can play around with themes and colours. Don't freak out if your blog doesn't look perfect after a few hours of work. Mine took months to look the way it does today.
So, a checklist, you ask?
About author page (people want to get to know you).
Copyright notice (because it's the internet – WordPress has one you can use).
Stories and articles you've written that appear outside your blog with links to them (you're a writer, show people what you've done).
A contact page (though I've added mine on my about author page and all my social media networks are in the sidebar, so this page can be skipped as long as people can find you).
On the sidebar: follow button for your blog, your social media links, and anything else you'd like to share at a glance.
Remember to join Twitter: it's a good place to network and share your blogposts (you'll reach a wider audience). Make sure that your blog knows what your Twitter handle is (check under settings and the publicise feature) for easy sharing.
I don't think I've left anything out… But just in case, check out the blogs and advice from the authors/bloggers I've linked to in the post.
Any advice you'd like to share about setting up a blog? I wish I knew a lot of this stuff when I just started out, pit in my stomach and the wide web in front of me. There's a lot to learn every day. How do you use your blog? How frequently do you blog? If you've moved from one blogging platform to another, was there a compelling reason behind it that you'd like to share?
Sign up for my newsletter and receive a free ebook. I won't share your information and I'll only email you once a month with updates on new releases, special offers, and a bit of news.