Tags
Daniel Parsons, Frances Caballo, hashtags, Holly Black, How to use Twitter, Jane Friedman, Jeremy Goldman, Joanna Penn, Jon Reed, Kirsten Oliphant, Mae Clair, Marcy Kennedy, Naomi Rowan, social media, social media platforms, social media tips, Tui Snider, Tweetdeck, twitter
I started using TweetDeck to schedule tweets early in December. On day one I got 5 new followers – and more retweets for my own stuff (original content) than ever before. And that while I was trying to figure it all out 😉
I've been using Twitter since July 2015 and never really bothered to learn more than the basics. But, like with Google+ and Pinterest, I had to learn how to optimise it. Scheduling tweets, learning about the different hashtags and how to use them, unfollowing people who've unfollowed me, and building relationships all worked to optimise my Twitter universe. And TweetDeck helped by showing me everything at a glance.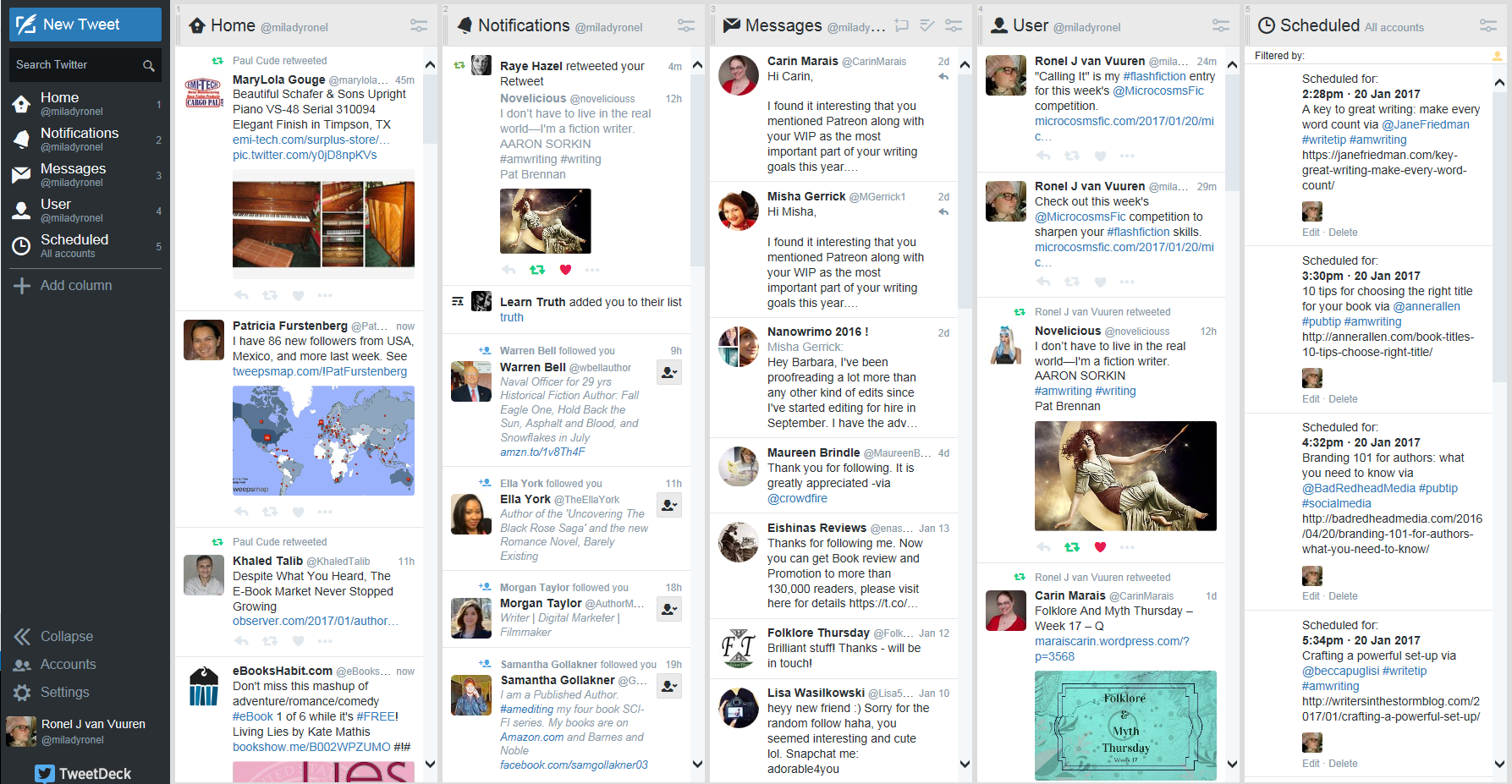 It's a powerful feeling.
Everything I learned about it:
The most important things about scheduling tweets I've learned:
#writetip tweets are readily liked and retweeted 8-9am (includes #amwriting).
#fiction tweets are readily liked and retweeted 3-4pm (includes #fantasy #shortstory #flashfiction).
There are no likes or retweets on anything from 8pm until 7am.
At least, that's been my experience.
I have no idea if TweetDeck limits the amount of tweets you can schedule. I do know that you can schedule tweets for any day (except the past 😉 ). And TweetDeck is free to use.
Personally, I don't feel comfortable with scheduling more than five tweets or so in advance. I like retweeting friends (haven't figured out how to schedule that yet), having my blogposts publicise themselves on Twitter, and the freedom to change anything I like. And I definitely don't like the idea of being on Twitter 24/7 – even if it's done by a computer. (Also, I've tried it and – besides not liking it – it didn't really work for me.)
Though, I have to add that scheduling tweets of old blogposts have a lot of advantages. Not only did my followers/readers of hashtags I use finally see this post, read it, like it, share it – they also sent me messages about how helpful/enjoyable they've found it. Just shows you: the short life-span of tweets are long enough to get a tweet noticed if done correctly.
As for excellent hashtags to use:
#writetip – self-explanatory (usually added at the end of a title of a helpful article about writing, remember the link).
#pubtip – self-explanatory (usually added to the end of a title of a helpful article about publishing, remember the link).
#socialmedia – usually added to the end of a title of a helpful article about social media (like this one!), remember the link.
#amwriting – can be added to thoughts while writing (e.g. Looking up the different ways people can drown #amwriting) to enlighten or amuse fellow writers, to the end of a title of a helpful article you're using while writing, or to a blogpost title where you update your readers on where you are in your current WIP (work in progress).
#amediting – the same as the #amwriting only for editing stuff.
#FolkloreThursday – an amazing Twitter group who share folklore-related images, facts and stories. I do a post on every second Thursday about a folklore creature/element I used in my stories – digging deep into the folklore-roots of the creature and sharing it with the hashtag on Twitter. Sometimes my tweets will be retweeted by several in the community.
#MondayBlogs – there are a couple of rules (no stories, no selling, etc.) that are quite reasonable. It's all about sharing your blogposts with a new set of readers who will probably retweet your tweet and even comment on your blog. (Though I haven't had many comments, I did gain more readers and followers.) It's like a mini-blog-hop if utilised correctly. Remember: quality posts with catchy titles get retweeted more than meh-posts and boring titles. (Change your title in the tweet if necessary, or pose it as a question.) E.g. I changed "How to write #flashfiction" to "The benefits of writing #flashfiction" and it got more views than on the day I had originally posted it.
There are plenty of other hashtags you can use. These are the ones I like and they work for me. I like to limit it to two, perhaps three hashtags in a tweet – any more and it doesn't read right. Or worse: it reads like spam.
Remember to check out a hashtag you want to use: you want to use an active hashtag or it won't help you much.
So, there are people who say you should tag retweet accounts in your tweets. Theoretically, your tweets will be retweeted by them and all their followers will see your tweet. These same people will tag multiple accounts in every tweet.
Feels a little spammy to me. My advice ('cause it works for me): if you have folklore to share, tag #FolkloreThursday on a (you guessed it) Thursday. Don't spam people: it's rude. Check out different profiles and see what their rules are and how to engage. #MondayBlogs encourage you to retweet others – and to have catchy titles. Most often, you get what you give. (Though the Twitter-gods do have rules about how many retweets you can do in an hour.) #SundayBlogShare is also worth looking at.
So, about retweets and other people tweeting your posts…
I know a lot of tweeps like to retweet your tweet if it's a link from their blog and you @mentioned them. That's cool.
I know a lot of tweeps thank you for retweeting them/tweeting about them. That's cool.
I know a lot of tweeps ignore you entirely if you did any of the above. Rankles a bit, but you know what? It's okay.
I know a lot of tweeps who like a tweet about them and leave it at that. Awesome.
Wait? What? I know, you feel confused.
Let me explain: most of what happens on Twitter is ephemeral (short lived 😉 ). There isn't time to thank everyone who retweeted you – when will you write? There isn't time to retweet everyone who tweeted about you – when will you write? But quickly liking a tweet you were @mentioned in? It only takes a second – no, even shorter than that: a moment – to click the heart button in your notifications when you see it.
Personally, just having someone like something I'd @mentioned them in is enough of a nod to make me do it again – or at least feel that I hadn't wasted my time adding the @mention.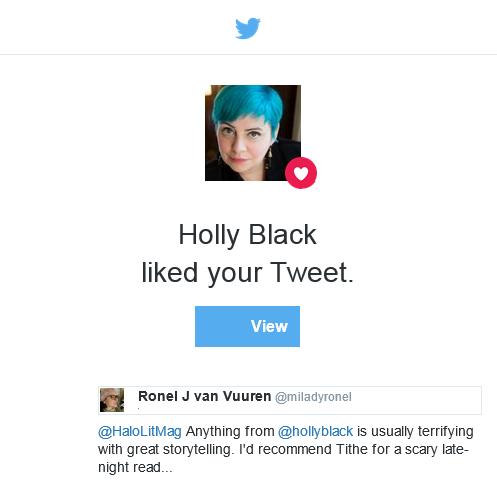 Yeah, it felt pretty amazing when an author whose work inspires me to greatness acknowledged that I tweeted about her books…
Now, about Twitter chats, games and other opportunities:
Twitter chats usually have a hashtag attached to them and you can follow the conversation using the appropriate hashtag. I've tried to follow and engage in a few – but let's be honest: my attention span is limited and usually it takes up time I'd rather spend writing.
Twitter games also have hashtags attached to them. Sometimes it trends and anyone can join in, e.g. #100reasonsnottodate (or something like that – I know it was hilarious and I even liked a few tweets).
There are several opportunities on Twitter for writers: #PitMad #100queries #MSWL and others. These range from tweeting the premise of your book to agents and possibly getting an offer of representation, to reading why query letters didn't work, and what manuscripts agents are wishing for in their inboxes.
Did I mention that Twitter is great to talk to your blogging friends? It's also a good way to retweet their blogposts (they'll probably do the same) and tweets about their books. Using the DM (Direct Message feature), a group of us encouraged each other during NaNoWriMo – and we're still going strong. I've even used DM to approach other writers about doing an interview with me. (PS. I already knew them and I tweeted them that I'd sent them a DM.)
You're probably wondering what makes for a good Twitter experience.
When you set up your account: fill in your bio, add a profile pic and change the banner. All of this will ensure that people won't just skip over the notification that you've followed them. (People like to know who they're following.) And don't keep your account private (where a little lock appears and no-one can read your posts).
If you take part in a social media hop where everyone follows everyone, make sure you at least follow the people who've followed you. (You can find that in your notifications or under "Followers".)
Not everything that happens to your account or username is reported in notifications (or via email or SMS): check out your "Followers" and "Following" to see if things have changed, if something was send via SMS, go check out the source (the same with email). You don't want to lose followers because you've ignored them (see 2).
Be polite. (Though, that's something you should always do.) You will be treated like you treat others.
Sometimes it's fun to talk to a total stranger about your favourite books, what you've recently read, or share ideas about whatever.
Don't tweet something you don't want your parents/ best friend/ employer to see. Though Twitter is ephemeral and you can retweet the same blogposts several times a month, that tweet about how you swallowed an entire bottle of vodka (yes, the bottle not just the vodka) will somehow live on to bite you when you least expect it.
There's a lot more about Twitter and how to use it you probably want to know.
Words from the experts:
Let's start with scheduling tweets.
6 Free Ways to Schedule Tweets
Using Twitter is really about the here and now. You find an interesting article, a cool picture, an awesome video, or maybe you just want to share something you've just realized or thought of. Either way, the way Twitter works, you're supposed to open a client, write your tweet, send it, and repeat this sequence every time you want to share again. So yes, tweets can only have up to 140 characters, but the process can still get pretty time-consuming.
This leaves us with two main options: Become a Twitter addict, tweet every time you think of something or discover something cool, no matter where you are; or neglect your Twitter account, forget to update it for days or weeks, and miss sharing things you actually meant and wanted to share. It's not black and white, of course, you might be somewhere in between, but in my experience, it mostly goes in these directions. The solution? Schedule tweets!
No, you're not going to become a bot, and if you do it wisely, it's still going to feel like a live and natural account. In addition, most Twitter analyzers provide best times to tweet depending on your followers. With a schedule, you can get the most impact for your tweets, and make sure most of your followers see them. Scheduling tweets is not hard – most of you have probably done it at least once. Here is a list of the best services, compared.
Buffer gets an A+
TweetDeck gets an A-
HootSuite gets an A
Dopo.io gets a B
Twuffer gets a B
LaterBro gets a B+
Read the article to see why they get these scores and how they compare to each other.
TweetDeck gives the Twitter experience more flexibility by letting you view multiple timelines in one easy interface. It includes a host of features to help advanced users get the most of Twitter: manage multiple Twitter accounts, schedule Tweets for posting in the future, build Tweet collections, and more. Simply sign in with your personal Twitter account at tweetdeck.twitter.com to get started.
There's a lot more useful info on how to use TweetDeck at Twitter Support.
Let's move on: how to use Twitter.
I know that not everyone who reads my blog are writers, so if you want to know more about how to use Twitter as a blogger, go and read Naomi Rowan's post How to Use Twitter for Your Blog.
You'll also want to use lists to optimise your Twitter experience. Mae Clair takes you step-by-step to create your lists – and to see if you feature on other people's lists.
As for Twitter chats, Tui Snider has a few she recommends for writers.
Writing can be a lonely pursuit, however meeting other writers is fun and easy with Twitter chats. Some good ones to try include: #writestuff (Tuesday nights at 9pm ET), #bookmarketingchat (Wednesday's at 9pm ET), and #10MinNovelists (Thursdays at 9pm ET.) My favorite writing chat is #StoryDam (Thursdays at 8pm ET.) 
Frances Caballo has 7 reasons why Twitter is awesome for writers. This one's my favourite.
If you are active on Twitter, it will refer a ton of traffic to your blog and website. (Twitter is my #1 source of website traffic.)
Go read the article for the rest 😉
There are ten things you shouldn't do on Twitter.
My favourites of the rules are:
Not interacting socially with other writers. It's important to be friendly on Twitter, meet other authors – even those who write in your genre (perhaps especially those authors) – and promote other authors. The more authors you meet and promote, the more they will suggest your books to their readers.
Spamming new followers with direct messages. It's because of all the spam in direct messages that a lot of people on Twitter (including me) stop reading them. Don't ask a new follower to read your blog, buy your book or visit your website in a direct message. In fact, don't even reply to them or send them a tweet with this type of message. Instead, attract them with your writing and your content.
Go read the rest of the list – you'll get a kick out of it.
My favourite description of Twitter:
At its best, Twitter is like a big party where everyone is throwing out their best quips or one-liners, be they deep thoughts, funny jokes, or tantalizing snippets of information about a project that make one's followers want to learn more. At its worst, it's like walking into a bargain basement and having salespeople lob cheap products at you. Don't be one of those.
The article goes on to tell you how not to sell books on Twitter.
Joanna Penn had an interview with Jon Reed on her blog, The Creative Penn.
Specific tips for using twitter. It is a great blog marketing tool and great way to drive traffic to your website. If you write on a specific area, build a newsfeed on twitter about your subject area. (This is what I have @thecreativepenn and I also recommend this) It helps people to get to know you and your expertise. For fiction, you can be more creative. People have experimented with tweeting whole novels, see examples in the ebook. Some people have tweeted in character, for example, @lordlikely You can also create buzz e.g. do Q&As or give away a chapter – check out com. You can also tweet tips or tiny pieces of your writing. All this helps connect with the right people. It's critical to keep tweeting though.
What do people get wrong on twitter? Don't just ask people to RT your posts when you haven't created a relationship with that person. Have some manners. Don't just tweet sales links. It's critical to be useful and/or entertaining. The quality of your tweets will encourage people to follow you. Don't just tweet your own stuff, tweet others as well. People also don't tweet often enough or for long enough. It takes patience and time to grow follows. Tweet at different times of day as well so you will appear in different timezones and streams. Also make the most of your Twitter biography which can now include links to your book. You can also separate a newsfeed profile from a more personal twitter account.
Joanna also has loads of tips about the dos and don'ts of using Twitter.
If you want to grow followers, tweet useful information regularly. People retweet useful information, they don't retweet personal updates. New followers who are interested in the topic will appear after RTs. You do need a mix of updates but I find followers grow faster when you have a high RT %.
(This really works!)
Attribute posts to others as it 1) gets their attention in a positive way and creates better relationship 2) enables you to tweet links without being blocked by Twitter as a spammer. Check the terms and conditions – you will be blocked if you tweet a lot of links with no @ attribution
(I had no idea about the spam thing – I always give credit where it's due 😉 )
Back up your tweets. If you tweet links, people are often interested in finding out what you have been tweeting. The main twitter site is not so good for this, so I use Friendfeed to direct all my tweets into. People can subscribe to my Friendfeed to find the backlist of information.
(I'll definitely look into this one!)
There are loads of other tips on how to use Twitter properly. Let's look at what not to do.
Don't auto-DM people when they follow you, it is a mark of a newbie and obviously not a personal message so is completely pointless. Many people will unfollow for auto-DMs, especially those that promote a product.

Don't spam i.e. don't tweet your own stuff all the time. You will go nowhere fast. Give first and you will receive.

Don't be negative or offensive, don't rant. Twitter is generally a positive place and people will unfollow for negativity and ranting. It is a public forum people, so just don't go there!
Yeah, the moment you start sending me auto-DMs telling me "buy my book minion" I feel the urge to unfollow you… And please don't DM me asking for favours if we don't have a prior connection. I'm not the only one who feels that way.
Joanna has other great tips and resources for you to check out (more than just about Twitter).
Jane Friedman also has a host of great tips on using Twitter.
Marcy Kennedy did a guest post on Jane's blog showing exactly what writers do wrong when they use Twitter.
Mistake #1: Using your bio as a sales pitch for your book.
Mistake #2: Automating everything.
Mistake #3: Protecting your tweets.
Mistake #4: Forgetting to have Twitter notify you when someone interacts with you.
Mistake #5: Only tweeting about your book or your blog posts.
Mistake #6: Not using hashtags (or using them wrong).
Mistake #7: Not creating lists.
You can read how to fix this mistakes in the original post.
Daniel Parsons did a guest post on Jane's blog, sharing his cheat-sheet of using Twitter effectively. He has more than 93k followers…
Brand Yourself

Follow People

Use the Three Key Principles of a Good Tweet

Get Answers

Drive Traffic and Use Your Leverage
To find out exactly what these tantalising titles mean, go read the original post.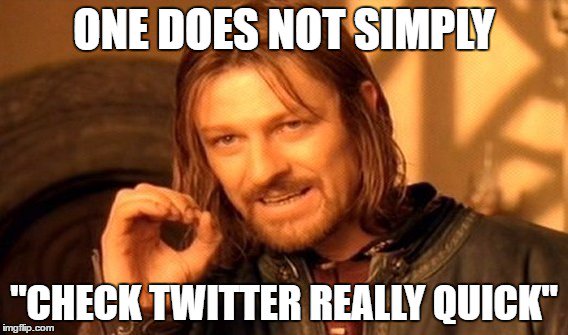 Of course, as anyone who uses social media knows, Twitter can suck up a lot of your time without you even noticing. Jane Friedman hosted Kirsten Oliphant on her blog – you can learn her secret to do Twitter in 15 minutes a day.
And Jane also has you covered in building a better bio for Twitter.
I hope that you have found this helpful. Getting the most out of what you put in, sometimes means that you have to change your approach. Are you on Twitter? What has your experience been with this platform? Any Twitter tips you'd like to share? Which hashtags work best for you?