Getting critique on your writing is a good way to better your writing. But sometimes it feels like an attack on your baby. Even when the critique is good and not at all threatening.
Here's a great article on Jane Friedman's blog about how to find the right critique group or partner.
There are, according to the article, three things to look for in a partner or group:
Shared direction, similar stage.
A workable pace.
People enjoy the writing and feel comfortable critiquing it.
As the author says: finding the right group or partner is a lot like dating.
But once you've found that right fit, how do you deliver a critique on that person's work? You know, without having them freak out and leave you?
Let's look at how to deliver good critique:
1.    Be respectful
A good rule of thumb is to treat others the way you'd like to be treated. The same applies to critiquing. Don't write that it was the biggest heap of steaming dung you've ever had the misfortune to read. (Yeah, I've seen a lot of comments like that on Wattpad and other places. Seriously?) Perhaps it wasn't as good as it could've been, but that doesn't mean you have to nasty.
2.    Be helpful
You know where the story can use some work – so tell the writer (in a nice way). Perhaps it's the dialogue, grammar, characters, or story that needs a little TLC. Point out what you liked and what worked – then show what didn't and why. And don't lie: if something didn't work, it doesn't help the writer if you don't mention it because you want to spare their feelings. As long as you're following this guideline, their feelings won't be in unnecessary danger.
3.    Be non-threatening
Don't start by throwing around knives. Surgeons don't show you what they're going to cut you with – they only tell you how they're going to make you feel better. Take the same non-threatening approach when you critique.
4.    Be excited (about the story)
Obviously you're critiquing a story in a genre that you like, so be excited about the story-elements or characters you enjoy and tell the writer that. Tell the writer why you liked the dancing tortoise but didn't like the singing hyena.
If you remember everything that goes into giving a good critique, you'll be less likely to explode from whatever emotion has you in its grip when you receive good critique. If, however, the critique is bad and leaves you in tatters – by all means, explode.
Anne R Allen has an excellent article on her blog on how critique groups can both help and hinder your writing.
And if you're looking for beta readers, Jami Gold has some advice on how and where to look for them.
(And yes: sometimes a critique partner comes in the form of a beta reader ;-))
I've critiqued work in the past – most people thank me for it, while there are those who didn't even acknowledge the work I've done (see explosion above).
A thoughtful critique has the ability to make the writer see the flaws or awesome writing they weren't able to see before.
Here's an example of a good critique I received recently on The Torn Veil on Wattpad: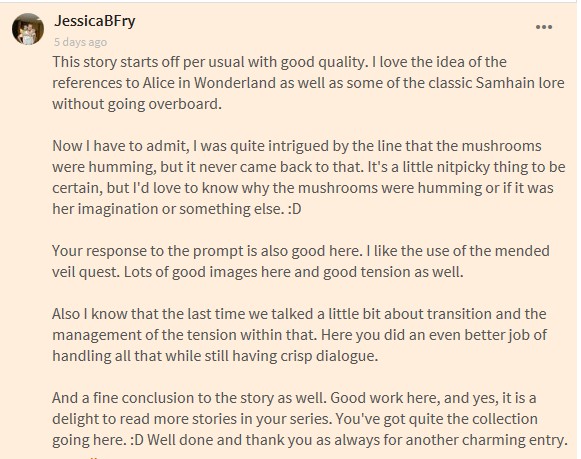 If you'd like to practice your critiquing skills, you're more than welcome to do so on my stories here on the blog (click on the short story category or on the Twisted Tale Tuesday category), or on my stories on Wattpad, my stories on writing.com, or my stories on INK if you want to give it a try in Afrikaans.
What do you think about critiques? How about critique partners and beta readers? Do you have beta readers or critique partners? Are you going to try out the techniques for a good critique? Are you open to receiving feedback on your writing?
Sign up for my newsletter and receive a free ebook. I won't share your information and I'll only email you once a month with updates on new releases, special offers, and a bit of news.