I had this nagging suspicion that my social media skills are a bit lacking. So I signed up for an email course through social media strategist Frances Caballo's blog while I was there reading yet another great article.
I knew that I was wasting valuable writing-time managing my social media platform. Yet I didn't know how to fix it on my own. (Yeah, misspelling the title of this blogpost could've worked well here…)
During the email course I did with Frances Caballo from Social Media Just for Writers to improve my social media skills (go ahead and join up – it's free) I learned a lot of important things.
Including that I needed to be on Pinterest.
Why?
According to Frances (and all the sources she cites in the post about Pinterest) Pinterest is one of two top social media networks for driving traffic to websites. (The other is Facebook.) And sadly, Pinterest drives more traffic than Twitter.
So I did the smart thing and created a Pinterest account.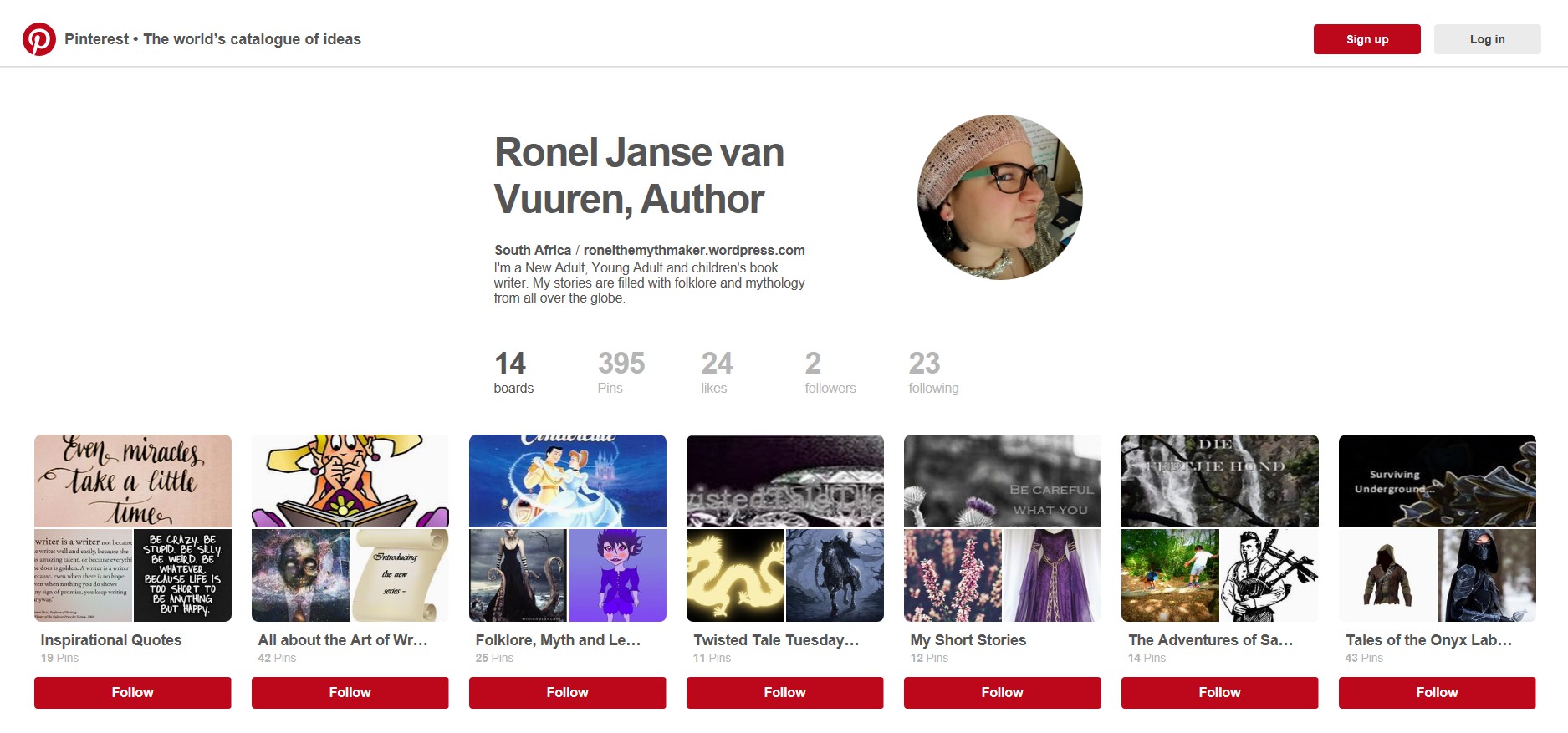 I followed those accounts I usually follow on all of my social media networks and a couple of new ones too.
And I created a couple of boards, pinning things to them that interest me. It's actually quite fun.
But before you run off and create an account just to see more photos of my Rottweilers, read on.
So, there's a couple of things you need to know before you set up your account. Most of that is covered (as well as step-by-step instructions to optimise your account) in this article on Jane Friedman's blog.
Frances Caballo also gives great tips on what kind of boards you should have as an author (with links to examples).
Once you've created your account, you'll want to start pinning everything in sight. Just remember to write a description of what you're pinning. (You'll see what I mean once you start.) For a quick guide on how to write the perfect Pinterest pin description, read this. It sounds silly at first, but once you see where this description will be (click on your pin to see it alone) it makes a lot more sense.
Wishing that social media would just disappear – or that only one network will exist to rule them all á la Lord of the Rings – is just that: wishing. So figure out what works for you and stick with it. FYI using all the tips from the email course, caused traffic to this blog to increase tenfold.
What about you: are you on Pinterest? Let me know so I can check out your boards.