Tags
Anne R Allen, Charlie Jane Anders, Damyanti Biswas, Dr John Yeoman, International Bath Flash Fiction Award, Jodie Renner, Jude Higgins, Moira Allen, short story, social media, Tara L. Masih, The Adventures of Saphira the Faery Dog, twitter, Vanessa North, Victoria Strauss, Wattpad, writing, writing competitions, writing tips
Most writing competitions are in the form of short stories or flash fiction. Though there are quite a few that involve novels, I'm going to talk about short story competitions. [Writing novels take a lot of energy and time which makes me wonder if competitions involving them are truly worth the prize at the end of the tunnel, but seeing as I haven't tried that yet I can't have a true opinion about the subject – feel free to tell about your novel competition experiences in the comments.]
Let's first look at my personal experience with competitions before figuring out what I should've done (hindsight is always 20/20).
Last year I had a post about writing competitions. Well, I entered most of them. Here's a rundown of how it went:
In August, I entered the Woman and Home Magazine annual short story competition. The theme was Spirit of Revival which could be broadly interpreted. The prizes included a writing course, designer luggage and gorgeous kitchenware. The winning entry would also be published. The only entry cost was to buy a copy of the magazine featuring the competition details and attach the coupon (no photocopies) to the short story entry. (Even though I had to print the stories as part of their entry requirements, and all the problems I had with gremlins in my printer, I didn't see the printing and mailing costs as a deal breaker.) With unlimited entries – and still at the start of the short story competition marathon – I wrote five and sent them off. I never heard back from them, though I know that my entries had reached them. No mention of the winners had been made either, though they said they'd let everyone know who the winners are in November. Now, either my search engine refuses to give me what I'm searching for, or they just didn't follow through. That's a competition I'll not enter again though it's an annual one. I probably should have researched them more thoroughly before blindly entering their competition in the first place…
In September, I entered the short story competition of the Writer's College. It was a non-fiction piece about one's journey as a writer. Though I know being unpublished isn't quite inspiring, the lessons I learned along the way's something I thought should be shared in a quirky way. They obviously didn't agree (or maybe I just never got the email telling me how much they'd learned in my inspirational/quirky/too-funny-to-be-published story.) [Sarcasm – I'm a bit like Sheldon Cooper where it comes to humour.] I never heard back from them. Though the competition was free to enter, I'm wondering why they had the competition in the first place. Another competition I should've researched before blindly entering…
*Sheldon Cooper is a character from The Big Bang Theory TV series.*
I missed the deadline for the On the Premise competition merely by mislabelling it on my planner as something that should be done in September while the deadline was actually already on the 5th. I made up for that by entering their competition in December. They promptly responded to let me know that they've received my submission – and they also gave a date of when I should be hearing back from them whether I've won or not. Though I didn't win, I learned how to use Submittable (such a great way to keep track of submissions to competitions and ezines) and the entries that did win were better suited to the competition premise and they were published on On the Premise's website (which is good for exposure).
The SAWC Annual Short Story Competition had many hoops I had to jump through as a non-member, but I didn't mind. (It was a lot like commenting on a blog that doesn't register my Gravatar profile.) Though they promptly responded that they've received my entries, I didn't hear a word from them afterwards. At the end of February I accidentally found the results of the competition in their Twitter feed – they'd posted the winning entries at the end of November on Facebook. (I'm not on Facebook, so I didn't get the notification.) Now, I didn't mind too much. (Being a runner-up with one of my three entries probably calmed me…)
– With even South Africans mangling my surname is just another reason I use miladyronel as my handle on social media.
I sent them an email asking when I'd be receiving the critiques on my stories and they promptly replied that I'll get them as soon as the judges released them. Okay. Their gala event where the winners would get trophies and what-not was in March. I could wait. And it was so worth it. Though I couldn't attend the event (I had other obligations that weekend and couldn't dash off to Durban), they mailed me my trophy – which had my name on it! – pen and certificate.
This competition was really worth it.
By the time I got around to writing my speculative fiction short stories for NOVA, my brain was fried. So I had to skip it entirely. I do have a couple of character sketches, plot outlines and weird stuff meant for speculative fiction so I'll be sure to use those for future writing projects. And NOVA's short story competition is an annual one…
Though not mentioned on the online competitions post, I took part in the prompt-driven competitions on WOES that lasted two weeks each. I know that entering all those WOES competitions probably used up all of my creative energy that I could've used for NOVA. And I probably only feel this way because WOES closed its doors whereas NOVA magazine is still going strong… Still, I won quite a few competitions on WOES (see accolades page) and it sparked a whole series (The Adventures of Saphira the Faery Dog) which is now available on Wattpad in both English and Afrikaans.
So what did I learn in this writing marathon? Not all writing contests are created equal.
Scams and Fakes:
As this recent tweet shows, a lot of scammers are out there to con writers out of their stories.
As this article by Dr John Yeoman attests, there are a lot of scams in the writing contest universe.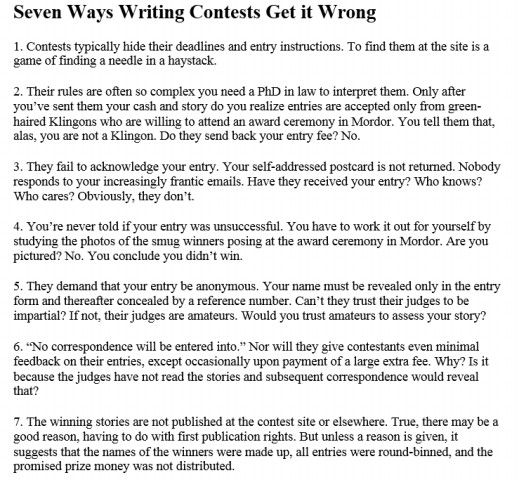 Oh, how I wished I'd stumbled upon this sooner!
Victoria Strauss has a lot to say about what writers should be aware of when researching competitions before entering them. Especially asking yourself if this competition will do anything for your writing resume (after you've made sure that it isn't a scam or fake).
Moira Allen has a few thoughts about flaky writing contests and scams.
Okay, so you've made sure that the competition you want to enter isn't a fake/ scam or irrelevant. Now how to win it?
Writing a Winner:
I got this from Damyanti Biswas's interview with Jude Higgins (founder of International Bath Flash Fiction Award) on Daily (W)rite:
What makes a successful short story? How is it similar or different from successful flash fiction?
Today I've read A Ford Mondeo, a story by novelist, poet and short-story writer, Gerard Woodward, from his 2008 collection, Caravan Thieves. It's both deeply unsettling and witty, and raised many questions. Flash fiction can work in the same way. It's exciting to read tiny pieces where the language sparkles and much is said in few words. For me, a story of any length is successful if it lingers after reading
This is also from Damyanti's blog – from her interview with Tara L. Masih (the editor of The Rose Metal Press Field Guide to Writing Flash Fiction and The Chalk Circle – both ForeWord Books of the Year):
You've won prestigious awards for your stories. What pointers would you give a writer submitting to contests?
Thanks. I wish I could say I'd won more prestigious awards. It's a process that is just as mysterious to me as it is to folks who have never won one. But having judged contests, I can give some basic pointers that are outside the obvious of writing a damn good story:
(1) Submit early. Judges are human and can get overloaded and tired by the end of a contest.
(2) Make sure your story is free of grammatical errors and typos. One or two in a long story can be forgiven, but a string of poorly written and proofed writing says to us you aren't really invested.
(3) Don't play the judge game. Despite what you may have heard about looking for judges that write like you do, they really do try to be objective. It's better to look to the group hosting the contest to see if their taste is in line with yours, as they do the initial screening
This article on Anne R Allen's blog by Dr John Yeoman tells us exactly what we should do if we do NOT want to win. Making these seven mistakes can kill the story's chances of ever winning:
#1. Your story looks boring.
#2. Your first paragraph is a bad advertisement for the story.
#3. Your last paragraph fades away.
#4. Your structure is all over the place.
#5. Your plot is a cliché.
#6. Your characters don't excite us.
#7. Your presentation screams 'amateur'.
This article on Anne R Allen's blog by Jodie Renner has 31 steps you should follow to write a prize-worthy short story. And as this editor says, writing short stories isn't just about competitions.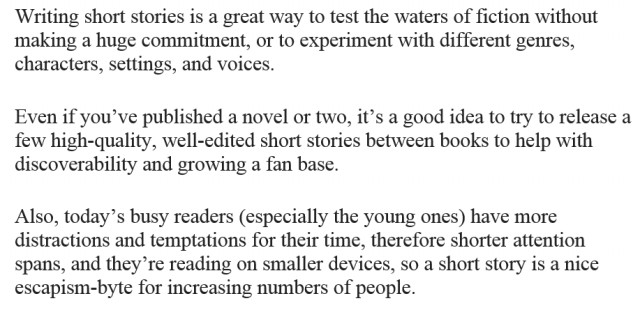 So you've got your story structurally perfect, but it isn't winning. What's it lacking? Dr John Yeoman shares the 5 'insider' secrets of top fiction writers in this article on Anne R Allen's blog.
1) Provoke an emotional response in your first lines.
2) Let the reader bond easily with your main character.
3) Play on your reader's senses.
4) Build in a firm structure
5) Close the story decisively.
Emotional engagement…
Charlie Jane Anders has 8 unstoppable rules for writing killer short stories – without, as she puts it, turning into 'a cannibalistic freak wearing a belt made out of human spinal cords'.
I hope that this properly prepared you for the short story competition season (usually September). Now you know what to be aware of as you find competitions online and in magazines.
Happy writing.
"In today's world there is no such thing as 'winning and losing' but rather 'winning and learning' only." – Unknown
Fellow scriveners: do you have anything to add? Do you take part in writing competitions? Have you ever won writing contests? Have you ever suffered at the hands of writing contest scammers? Do you write short stories or flash fiction? What do you like the most about writing short stories vs novels?
Sign up for my newsletter and receive a free ebook. I won't share your information and I'll only email you once a month with updates on new releases, special offers, and a bit of news.