Tags
#AtoZChallenge, A to Z Challenge 2016, A-Z Blogging Challenge, folklore, folklore creatures, Haitian Folklore, Hotel Transylvania, Neon Trees, Thomas Harris, undead, Voodoo, Wikipedia, writing, zombie
Z is for zombie.
Flesh eating, brain devouring monsters…
When you google "zombie", this is what you get on the first page of images: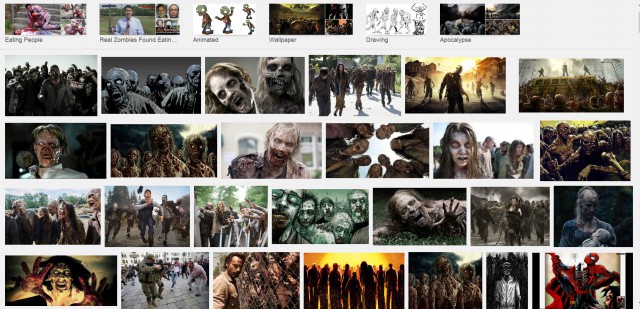 Fans of the undead can hardly wait, because The Walking Dead, US TV's highest-rated scripted drama, returns again this autumn for another season of grim survival amidst the zombie apocalypse. The series has proved so popular that there is now a spin-off series, Fear the Walking Dead, which just had the highest rated premiere in US cable TV history. The seventh Resident Evil film is due next year and even if the movie is subtitled The Final Chapter, one thing we know about the zombies is that they have the habit of always coming back. We are not done with this creature yet.
http://www.bbc.com/culture/story/20150828-where-do-zombies-come-from

A zombie (Haitian French: zombi, Haitian Creole: zonbi) is a fictional undead being created through the reanimation of a human corpse. Zombies are most commonly found in horror and fantasy genre works. The term comes from Haitian folklore, where a zombie is a dead body reanimated through various methods, most commonly magic. Modern depictions of zombies do not necessarily involve magic but often invoke science fictional methods such as radiation, mental diseases, viruses, scientific accidents, etc.[1][2]
The English word "zombie" is first recorded in 1819, in a history of Brazil by the poet Robert Southey, in the form of "zombi".[3] The Oxford English Dictionary gives the origin of the word as West African, and compares it to the Kongo words nzambi (god) and zumbi (fetish).
One of the first books to expose Western culture to the concept of the voodoo zombie was The Magic Island by W.B. Seabrook in 1929. This is the sensationalized account of a narrator who encounters voodoo cults in Haiti and their resurrected thralls. Time claimed that the book "introduced 'zombi' into U.S. speech".[4]
Zombies have a complex literary heritage, with antecedents ranging from Richard Matheson and H. P. Lovecraft to Mary Shelley's Frankenstein drawing on European folklore of the undead. In 1932, Victor Halperin directed White Zombie, a horror film starring Bela Lugosi. Here zombies are depicted as mindless, unthinking henchmen under the spell of an evil magician. Zombies, often still using this voodoo-inspired rationale, were initially uncommon in cinema, but their appearances continued sporadically through the 1930s to the 1960s, with notable films including I Walked with a Zombie (1943) and Plan 9 from Outer Space (1959).
A new version of the zombie, distinct from that described in Haitian folklore, has also emerged in popular culture in recent decades. This "zombie" is taken largely from George A. Romero's seminal film Night of the Living Dead,[1] which was in turn partly inspired by Richard Matheson's 1954 novel I Am Legend.[5][6] The word zombie is not used in Night of the Living Dead, but was applied later by fans.[7] The monsters in the film and its sequels, such as Dawn of the Dead and Day of the Dead, as well as its many inspired works, such as Return of the Living Dead and Zombi 2, are usually hungry for human flesh, although Return of the Living Dead introduced the popular concept of zombies eating brains. The "zombie apocalypse" concept, in which the civilized world is brought low by a global zombie infestation, became a staple of modern popular art.
Zombies in Folklore
In Haitian folklore, a zombie (Haitian French: zombi, Haitian Creole: zonbi) is an animated corpse raised by magical means, such as witchcraft.[8]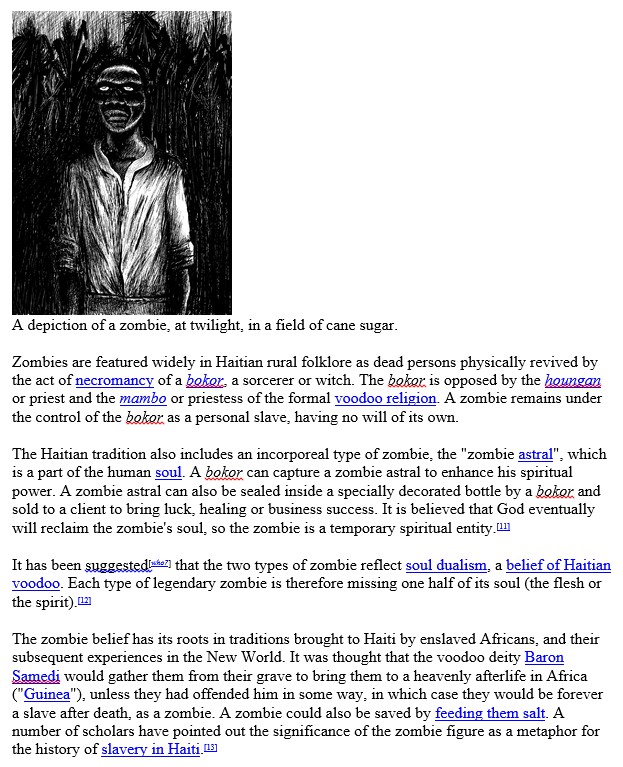 https://en.wikipedia.org/wiki/Zombie
The horror-movie trope owes its heritage to Haitian slaves, who imagined being imprisoned in their bodies forever.
But the zombie myth is far older and more rooted in history than the blinkered arc of American pop culture suggests. It first appeared in Haiti in the 17th and 18th centuries, when the country was known as Saint-Domingue and ruled by France, which hauled in African slaves to work on sugar plantations. Slavery in Saint-Domingue under the French was extremely brutal: Half of the slaves brought in from Africa were worked to death within a few years, which only led to the capture and import of more. In the hundreds of years since, the zombie myth has been widely appropriated by American pop culture in a way that whitewashes its origins—and turns the undead into a platform for escapist fantasy.
The original brains-eating fiend was a slave not to the flesh of others but to his own. The zombie archetype, as it appeared in Haiti and mirrored the inhumanity that existed there from 1625 to around 1800, was a projection of the African slaves' relentless misery and subjugation. Haitian slaves believed that dying would release them back to lan guinée, literally Guinea, or Africa in general, a kind of afterlife where they could be free. Though suicide was common among slaves, those who took their own lives wouldn't be allowed to return to lan guinée. Instead, they'd be condemned to skulk the Hispaniola plantations for eternity, an undead slave at once denied their own bodies and yet trapped inside them—a soulless zombie.
The original brains-eating fiend was a slave not to the flesh of others but to his own.
Hence a bitter irony between the Haitian zombie and its American counterpart. The monster once represented the real-life horrors of dehumanization; now it's used as a way to fantasize about human beings whose every decision is exalted. While it's difficult to begrudge the storytelling logic of wiping out the many to restore meaning and importance to the few, it's still worth acknowledging the bleak asymmetry of the zombie then and the zombie now. The original emerged in a context where humans were denied control of their own bodies and sought death as an escape. And now in pop culture, the zombie has come to serve as the primary symbol of escapism itself—where the fictional enslavement of some provides a perverse kind of freedom for everyone else
http://www.theatlantic.com/entertainment/archive/2015/10/how-america-erased-the-tragic-history-of-the-zombie/412264/
The origin of the concept of zombiism stems from Haitian Voodoo culture. The word zombie–in Haitian it is "zombi"–means "spirit of the dead." Voodoo folklore contends that Bokors, Voodoo priests that were concerned with the study and application of black magic, posessed the ability to ressurrect the deceased through the administration of coup padre—coup padre is a powder that is issued orally, the primary ingredient of which is tetrodoxin, the deadly substance of the notoriously poisonous fou-fou, or "porcupine fish." According to lengend, "a zombi(e) is someone who has annoyed his or her family and community to the degree that they can no longer stand to live with this person. They respond by hiring a Bokor..to turn them into a zombi(e)." (Keegan, http://www.flmnh.ufl.edu)
Once they had been issued the coup padre, the subjects being prepared for their descent into zombidom would appear to die insofar as their heart rate would slow to a near stop, their breathing patterns would be greatly subdued and their body temperature would significantly decrease. The public, thinking that the person was dead, would bury him/ her as if they were a corpse. They would then be exhumed, still alive, by the Bokor and, although their physicality remained intact, their memory would be erased and they would be transformed into mindless drones. "Though still living, they remain under the Bokor's power until the Bokor dies." (Keegan, http://www.flmnh.ufl.edu)
http://umich.edu/~engl415/zombies/zombie.html
In Hotel Transylvania, the hotel workers are zombies.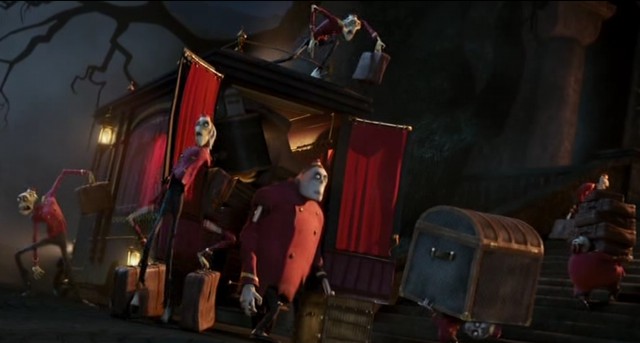 The music video for Neon Trees' Everybody Talks features zombies – not just in the featured movie "Zombie Bikers from Hell"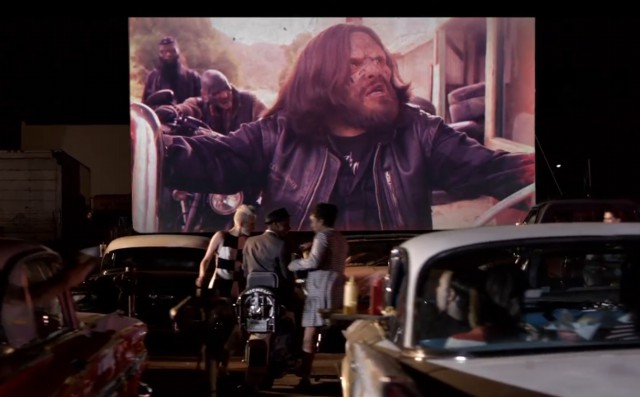 but also in the cute 50s drive-in.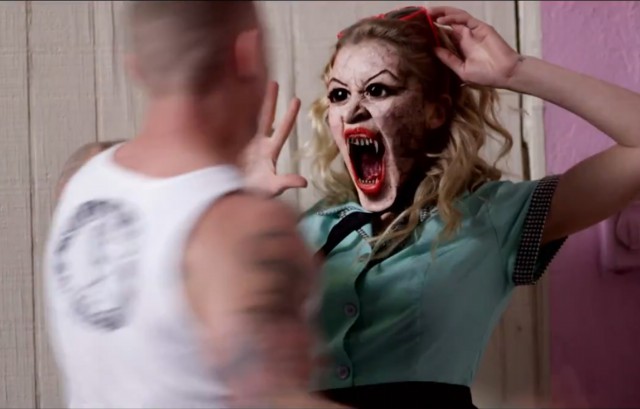 Obviously, despite its grim origins, the zombie is here to stay.
I've even started experimenting with using them (or ghouls) in my darker stories… Though that is still in the beginning stages and it will be updated on my creatures page (Origin of the Fae) once I know exactly how they'll work in my stories.
"Fear comes with imagination, it's a penalty, it's the price of imagination." – Thomas Harris
Anything about zombies you'd like to add? Do you use them in your writing? Do you enjoy zombie movies or books?
Sign up for my newsletter and receive a free ebook. I won't share your information and I'll only email you once a month with updates on new releases, special offers, and a bit of news.