Tags
#AtoZChallenge, #FolkloreThursday, A to Z Challenge 2016, A-Z Blogging Challenge, Encyclopaedia of Fairies in World Folklore and Mythology, Faerie, folklore, Jenny Joseph, preview of work, Red Hat Society, Roman Empire, Ronel Janse van Vuuren, S. Zondo, short story, Theresa Bane, writing, writing.com
R is for Red.
April is the Red Hat Society's birthday month. Members of the Red Hat Society wear red hats and purple dresses.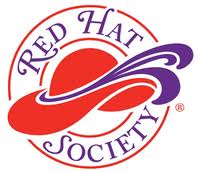 Red hats and purple dresses have been mystical in folklore since the beginning of time.
In Scotland, Red Caps are malicious Fae living in old castles who kill travellers and soak their hats in their victims' blood.
In Croatia, the Red Hat is a dwarf who wears a pointy red hat, is benevolent, vegetarian, and either lives in a tree or underground and they are owners of mines (coal, salt, jewel, gold, etc.).
On the Isle of Man (Scotland) the Red Cloak Woman (an actual old woman wearing a red cloak and believed to be a Fae) came over the mountain and rang a bell an hour before church services started.
Santa Claus wears a red hat and red winter clothing. (He is usually seen a benevolent Fae who brings joy and abundance to others.)
Shefro are Irish trooping Fae who live communally in castles under their Fae Forts. They wear red caps and are fond of hunting, horseback riding, feasting and other such happy pursuits.
[Source: Encyclopaedia of Fairies in World Folklore and Mythology by Theresa Bane.]
Fae can make themselves look any age…
Purple is the rarest colour in nature. Combine that with the expense of creating the colour (before modern technology) and it's no wonder that purple's had a supernatural quality for centuries.
Purple also evokes stronger feelings in people than any other colour: it can symbolise magic, royalty, decadence, mourning and creativity.
In the Roman Empire, the emperors were the only ones who could wear the colour purple (Julius Caesar and Augustus decreed it so) and Nero made sure that if anyone else wore purple or sold anything purple they were to be punished severely (usually death).
Now for something from this century: The Red Hat Society. This Society of women is almost as mystical as the colours they wear.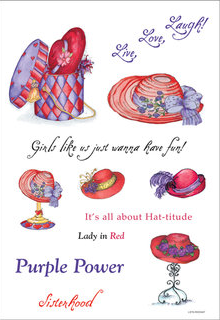 Fast Facts (as found on their official website):
Who We Are:
A global Society of women approaching the age of 50 and beyond that connects, supports and encourages women in their pursuit of Fun, Friendship, Freedom, Fulfillment and Fitness. By maintaining a thriving social networking community and offering a variety of services and group experiences, the Red Hat Society revitalizes its Members, helping them attain renewed confidence, pride and enthusiasm for life.
RHS Members wear full regalia that includes distinctive red hats and purple outfits if you are 50 or older, pink hats and lavender outfits if you are under 50.
Our mission is to connect like-minded women around the world and to encourage them to have fun together. We are a vivacious society of women who celebrate life. Along the way, we develop strong bonds and caring friendships–at the same time raising the respect and visibility of women who are entering their next stage in life.
How It Started:
It began with a simple gift. Sue Ellen Cooper gave a dear friend a copy of a poem encouraging women to don a red hat and purple outfit in the face of getting older. She also gave the friend a bright red fedora to celebrate the friend's 55th birthday in November 1997.
The Red Hat Society officially formed April 25, 1998 when Sue Ellen Cooper and a group of five friends, known as The Founding Chapter of Fullerton, California, dressed in purple clothing and red hats and met for afternoon tea.
Word quickly spread of these outings after a story appeared in Romantic Homes in July 2000. Since then, hundreds of articles have been published in regional newspapers and national magazines such as Good Housekeeping and Women's Day.
Sue Ellen Cooper never set out to ignite an international phenomenon. She simply wanted to share her light-hearted attitude toward aging with a few girlfriends. In response to national news coverage, the Red Hat Society exploded.
Stats:
Approximately 20,000 chapters exist in all 50 states in the U.S. and in more than 30 foreign countries.
It is estimated that each chapter averages 20-25 members.
The Red Hat Society is made up of a diverse network of women including working women and retirees, grandmothers, golfers, attorneys, teachers, Olympians and entertainers.
The Red Hat Society has licensing agreements with a dozen companies to produce quality merchandise available through the Red Hat Society Store and select retail stores throughout the United States. Product is identifiable by a tag bearing the official Red Hat Society logo.
Fun Facts:
2013 marks the Society's 15th Anniversary.
2011 marked the year The Red Hat Society saw their first red hat and purple boa go on display at the Smithsonian Institution's National Museum of American History.
The Red Hat Society reaches nearly 100,000 Red (& Pink) Hatters and Hatter Enthusiasts each week through the Friday Broadcast, a personal e-mail updating members with news from Hatquarters and escapades of Red Hat Society members around the world.
Sue Ellen Cooper sends a personal monthly broadcast to all Queens entitled Queen To Queens. This is a communique for all queens to share ideas and plans and to ask questions.
HATS! The Musical premiered Oct. 11, 2006 at The New Denver Civic Theatre.
Red Hat Society Day is celebrated April 25th by official Chapters worldwide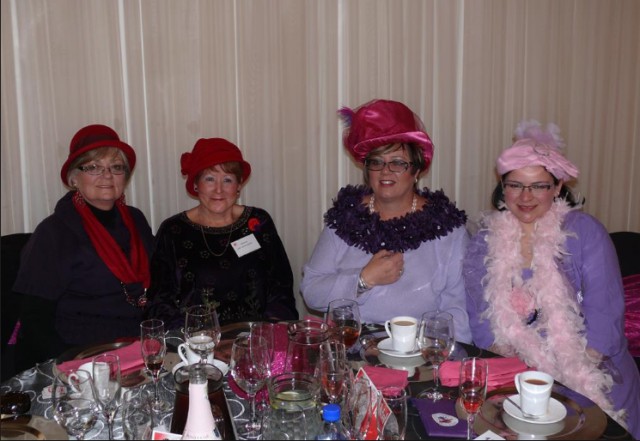 Ronel (on the right) with Red Hat friends at a function in 2014.
The Red Hat Society even has its own poem!
Warning (by Jenny Joseph)

When I am an old woman I shall wear purple  
With a red hat which doesn't go, and doesn't suit me.  
And I shall spend my pension on brandy and summer gloves  
And satin sandals, and say we've no money for butter.  
I shall sit down on the pavement when I'm tired  
And gobble up samples in shops and press alarm bells  
And run my stick along the public railings  
And make up for the sobriety of my youth.  
I shall go out in my slippers in the rain  
And pick flowers in other people's gardens  
And learn to spit.   

You can wear terrible shirts and grow more fat  
And eat three pounds of sausages at a go  
Or only bread and pickle for a week  
And hoard pens and pencils and beermats and things in boxes.   

But now we must have clothes that keep us dry  
And pay our rent and not swear in the street  
And set a good example for the children.  
We must have friends to dinner and read the papers.   

But maybe I ought to practice a little now?  
So people who know me are not too shocked and surprised 
When suddenly I am old, and start to wear purple. 
Fascinating, isn't it?
"To be like you want to be, be like a bee. If the bee wasted its time comparing its big body with its small light wings, it would not be flying today." – S. Zondo
To honour the red hat and red cap lore, I wrote a short story featuring a bit of fun, thrills and adventure. Red Hats and Red Caps can be read on writing.com.
"Veronica was starting to lose it. She sat in the middle row of the minibus, and not next to a window, surrounded by her seven Red Hat friends. And the huge, purple backpacks each of them had brought along for the trip. She perhaps could've gotten used to the cramped space, if it weren't for the best songs of Billy Joel playing shuffled on repeat."

– Red Hats and Red Caps, Ronel Janse van Vuuren
I hope you enjoyed the story. Comments can be left here or on Writing.com. Anything about the colour red you'd like to add?
Sign up for my newsletter and receive a free ebook. I won't share your information and I'll only email you once a month with updates on new releases, special offers, and a bit of news.