With the accessibility of the internet, everyone and their dog has a blog.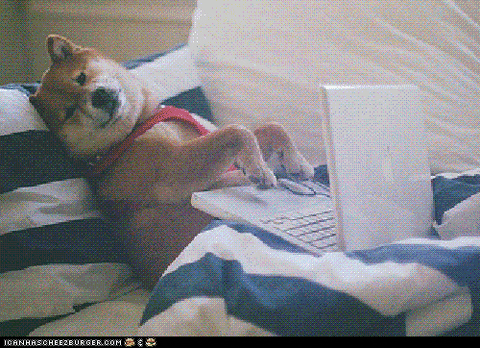 The trick is getting readers for your blog.
I've talked before about SEO. And it's important. But a few other things will help get you new readers and have them come back for more.
1. Have a niche.
Random ramblings might be cute for your diary, but if you want people to read your blog it has to have a theme.
Anne R. Allen's blog is all about writing and publishing tips – whether you're traditionally published, self-published or publishing-in-waiting.
You can blog about anything, as long as the topic is consistent in all of your posts.
I like to blog about life as a South African writer (just as it says in the banner). That includes how my Rottweilers change my writing habits, the effect of South African public holidays on my writing, how braais make me feel like a social pariah and influences my writing. (Yes, it always comes back to writing. <grin>)
2. Have a title.
It's easier to remember that you read Daily (W)rite than remembering you read Damyanti's blog.
Having a catchy title that also reflects the blog's content will make your blog memorable.
3. Have consistency.
If you only blog once a week (aka slow blogging), don't blog erratically throughout the week as inspiration hits. Keep to a schedule.
Some bloggers like to blog throughout the week. Some posts may even just be an exercise in creative writing. Carin Marais posts pieces of flash fiction in between her other posts on Hersenskim.
Whatever you do, make sure your readers/followers know what you're planning.
4. Have atmosphere.
People want to feel comfortable when they're on your blog. Nice font, pretty pictures and a calming colour scheme all contribute to the atmosphere.
It's like a restaurant: if diners feel rushed, uncomfortable or unable to relax, they'll leave.
You want readers to stay…
5. Have fun.
Sometimes the only way to push yourself to make your blog better, is to join a challenge. The A-Z blogging challenge makes the participants blog every day in April (except Sundays) using the letters of the alphabet.
There are other challenges out there. Find them. Have fun.
6. Have a "like" returned.
A good way to have your blog noticed by other bloggers is to go to blogs with content similar to yours. If you blog about dogs, search for other blogs about dogs. Read posts and either like or comment on them. You'll be surprised how many people will notice your comment and visit your blog out of curiosity.
Whenever someone likes a post on my blog, I'll go to their blog to see what they're up to. I usually like something they wrote or I'll even comment if I feel driven to. I've found quite a few blogs to follow that way.
7. Have tags.
Tagging your post with names appearing in it or what it's about (e.g. writing), more readers will find your blog. Adding hashtags when publicising it on various social media platforms will help readers of popular tags find your blog (e.g. #FolkloreThursday).
8. Have social media accounts.
Yes, your blog will be noticed by the tags you use. But if you want more readers, you have to promote your blog on other social media platforms. Like Twitter. Or Google+. Maybe you like Instagram or Pinterest. Whatever your preference, publicise your new blogposts there.
And if you like another blogger's post, feel free to publicise it. (Good deeds and all that.)
9. Have comments.
If you allow people to easily comment on your blog (even if they don't have a WordPress or Blogspot account), you'll have more interaction with your readers. (Don't let the wars of others – read "the big corporations that run our lives" – interfere with the interaction you can have with readers.)
Allowing readers to comment, like, share via a tweet (or whatever other social media platform they want to use) your blogpost will generate more readers.
So remember to make sure your blog allows comments. And add sharing icons at the end of posts to make things easier for your readers.
Oh, and reply to the comments made on your blog. Readers like to know that they're noticed. (And your mother will feel proud that she raised a child with manners.)
"When I think of vision, I have in mind the ability to see above and beyond the majority." – Charles Swindoll
I hope this helped. Anything to add?