Tags
#FolkloreThursday, African Folklore, African legends, folklore, mountains, mythology, preview of work, Ronel Janse van Vuuren, short story, South Africa, Table Mountain, Wikipedia, writing, writing.com
Mountains have always held a mystical appeal to mortals. They've found their way into mythology, folklore and religion.
Check out the various mythological mountains on Wikipedia.
But no other mountain seems to have as many folktales about it as Table Mountain in Cape Town, South Africa.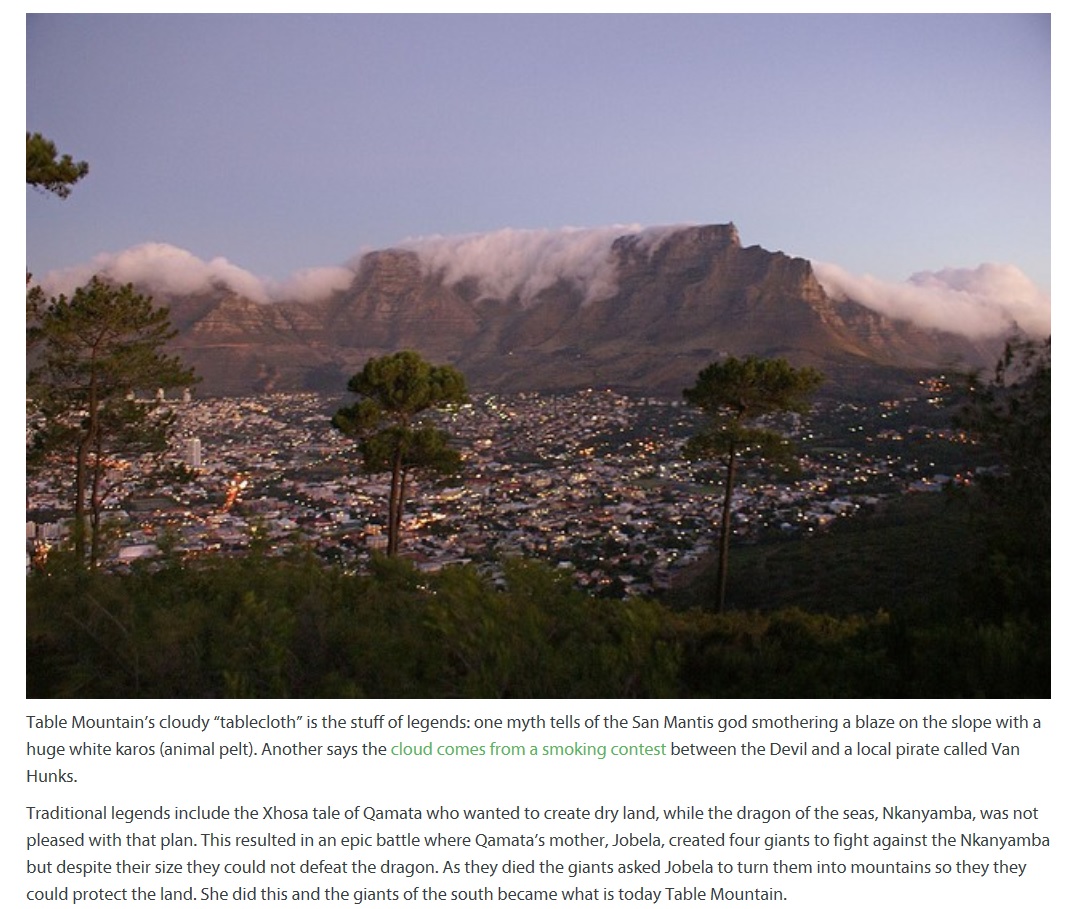 http://www.tablemountain.net/blog/entry/table_mountain_the_stuff_of_legend
Dragon of the Sea
According to African legend, Tixo (God of the Sun), and Djobela (Earth Goddess), conceived Qamata who created the world. But the Great Dragon of the Sea, was so jealous that he fought with Qamata to try and stop him forming dry land. In the battle Qamata was badly crippled, but the Earth Mother Djobela came to his aid by creating four mighty giants to guard the far corners of the earth. Djobela placed the biggest and strongest giant at the gateway to the south where Cape Town now lies.
After many terrible battles with the great Dragon of the Sea, the giants were killed one by one. But before they died, they requested that the Earth Mother turn them into mountains, so that even in death, they could guard the world. And so, the greatest giant of all – Umlindi Wemingizimu – became Table Mountain, the watcher of the south.
http://capetown.hotelguide.co.za/History_of_Table_Mountain-travel/table-mountain-carrie-hampton.html
Table Mountain is an Angry Giant Greek God Called Adamastor
This idea, of course, made perfect sense to Portuguese sailors who were trying their best to find their way to India and had to face the tempestuous waters and storms of the Cape. The notion was inspired by a poem by Luís de Camões in which the mountain was likened to an angry, hostile and vindictive giant who suffered from some kind of inner turmoil and who wouldn't allow anyone to pass through the rough seas of the area. The belief is that after years of trouble the great beast was finally defeated and the evidence of this is in the successful rounding of the tip of Africa by the great explorer Bartomeu Dias and later by Vasco da Gama, who was the first to make it all the way to India. Today, all that's left of this mad giant is a motionless mountain.
http://www.capetownmagazine.com/cape-confidential/table-mountain-myths-and-legends/123_22_19779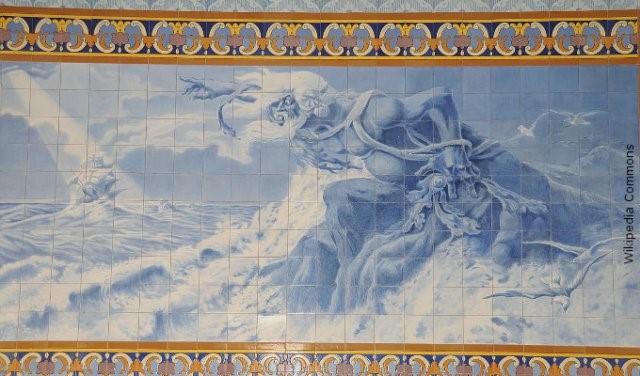 A Smoking Contest with the Devil is Responsible for the 'Tablecloth' on Table Mountain
While the origins of this story are not known, it is widely accepted that the Cape Malays were involved in the creation of the tale. The legend involves a retired Dutch pirate named Van Hunks, who had a great love for pipe smoking. One day, this very same pirate was smoking at his favourite spot (on the slopes of what we now know as Devil's Peak) when a stranger approached and challenged him to a smoking duel. After a long day of huffing and puffing (some actually say that the contest went on for days on end), a large cloud of smoke had enveloped them and Table Mountain. Just as Van Hunks won the competition, he realised that the stranger was actually the devil. The devil was not impressed about being beaten by a man, and so suddenly the two men vanished in a bright flash of lightning, leaving behind only their huge cloud of smoke. Legend has it that this mass of smog became the 'tablecloth' of Table Mountain (the wisps of cloud that often cover its top).
http://www.capetownmagazine.com/cape-confidential/table-mountain-myths-and-legends/123_22_19779
The first time I saw Table Mountain in real life, it was covered in a blanket of wispy clouds. It was the middle of the day and I thought it had to be magic. (I'm from Gauteng and mist usually dissipates once the sun's out – it doesn't suddenly form in the middle of the day.) A few days later, I went up the mountain. I'd barely started exploring when mist rolled in. The confusion and disorientation of being suddenly isolated cannot truly be described. Though I do try in Mystical Mountain where everything isn't as it seems. In its Afrikaans incarnation, Verborge Bergrug, this story won a short story competition on Woes (see Accolades page https://ronelthemythmaker.wordpress.com/accolades/ ). The English version of the story can be read on writing.com [http://www.writing.com/main/view_item/item_id/2074876-Mystical-Mountain]
             "The movement could be anything. She hoped that it was her friends, but she knew it could be the bergies. Though the homeless people living on Table Mountain were usually harmless, one never knew.

             A long shadow moved through the fog towards her. Nadia's heart pounded in her ears.

             'What are you doing on our mountain?' the shadow asked once he was close enough to her that she wanted to run away in a panic. 'People aren't welcome on our mountain.' "

– Mystical Mountain, Ronel Janse van Vuuren
I hope you enjoy reading the story. Comments can be left here or on writing.com – I always appreciate feedback. Do you have any mountain folklore you'd like to share?
Sign up for my newsletter and receive a free ebook. I won't share your information and I'll only email you once a month with updates on new releases, special offers, and a bit of news.