It came as a great shock this week to find out that the Afrikaans writers' platform I've been using for the last couple of months is closing its doors. The shock was even greater because no explanation was given. And for some reason no-one is questioning it. Perhaps they know something I don't – it's no secret that I live more in my fictional worlds with my fictional friends than in the real (or online) world.
Still, it caused me to write a couple of stories of various lengths (and various stages of grief). As an homage to what I learned in my writing since joining Woes, I'll place them here (in Afrikaans and in English *grin*) in this super-long post. Alright, *sigh*, I'll add links to the longer stories to other sites.
Innerlike Afskeid [Inner Farewell] – included in this post.
'n (Amper Klou en Byt) Afskeid [A (Nearly Vociferous and Vicious) Farewell] – this can be read in the following blog post https://ronelthemythmaker.wordpress.com/2016/01/10/a-nearly-vociferous-and-vicious-farewell-shortstory-amwriting/ .
First, let's look at the statistics (and profile page) of my few months on Woes.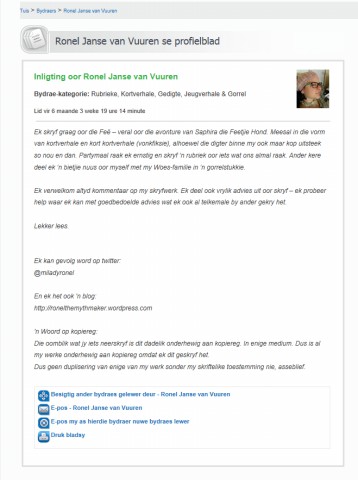 My profile page basically says that I like writing about Faeries, especially The Adventures of Saphira the Faery Dog. It also has the same copyright notice this blog has.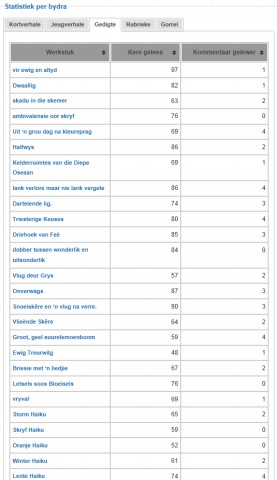 Through my statistics I now know that I'm not a poet (well, duh).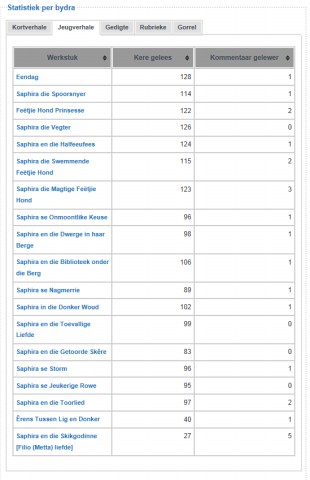 Through comments (not shown here), competitions won (see "Accolades" page) and statistics I know that my series The Adventures of Saphira the Faery Dog was well-received.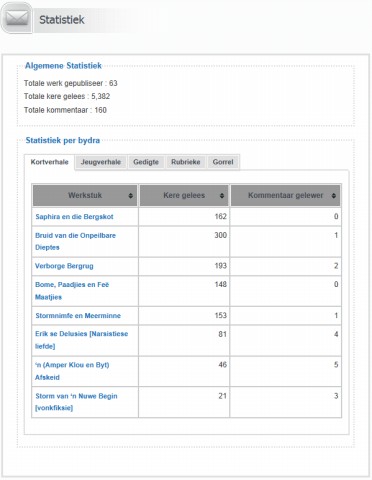 According to these statistics, one short story (a New Adult one about escaping the life one's in) Bruid van die Onpeilbare Dieptes (Bride of the Unfathomable Deep) was read more than any of the other stories. Which says I have something there that makes people want to read it and tell their friends about it. [FYI if you click on the writing.com banner in the side-bar, you can read this story in English.]
Though I had no followers (officially), I did have friends who read my work on a regular basis.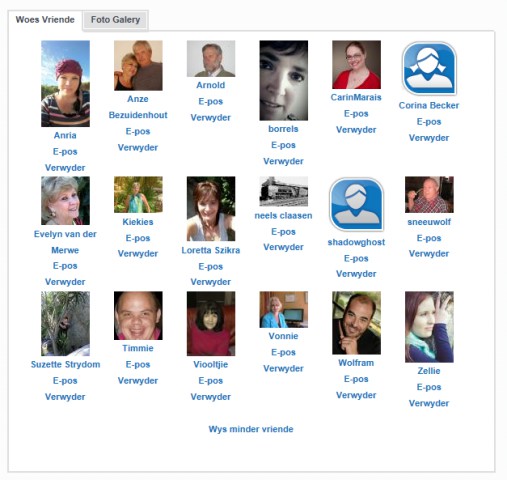 I'll admit that I didn't easily make friends, but we read each other's work and were involved with each other's work (the "real" connections people always talk about when they say you have to make "real connections" with your social media followers).
Now for the short column-style piece:
Innerlike Afskeid #Afrikaans
My innerlike Lois Lane het baie vrae oor hierdie afskeid. "Hoekom" en "waarom" is heel bo-aan hierdie vraelys. Saam met baie ander wat niemand graag sal wil beantwoord nie.
My innerlike kind wil 'n vloermoer gooi omdat ek nie my sin kan kry nie. Wat seker wys dat jy nooit te oud is vir 'n pak slae nie.
My innerlike romantikus is seker daarvan dat 'n ridder op 'n wit perd (of dalk in 'n bakkie) ingejaag gaan kom op die laaste oomblik en alles sal red. Dalk het ek weer 'n oogtoets nodig om van hierdie rooskleurige lense onslae te raak.
My innerlike tiener het besluit om dikbek rond te loop en die heelal te blameer vir alles wat fout gaan. Miskien is ek eintlik die ouderdom van my fiktiewe vriende…?
My innerlike Narcissus dink dat hierdie afskeid net oor my gaan; dat as dit nie vir my was nie sou hierdie afskeid nooit plaasgevind het nie. Na alles het 'n skrywer 'n gesonde ego nodig, maar hierdie gaan 'n bietjie té ver.
My innerlike ek, die heel kleinste skilpop, staan verslae en kyk hoe hierdie kortstondige verhouding tot 'n einde kom. En daar's niks wat ek vir haar kan sê om dinge beter te maak nie. Om afskeid te neem is deel van die lewe. Ongelukkig maak dit nie saak hoeveel keer jy dit doen nie, dit raak nooit makliker nie.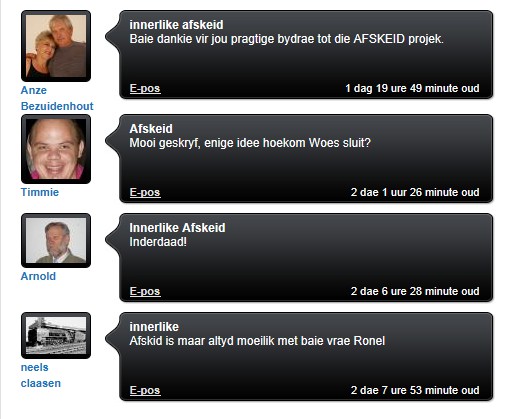 Inner Farewell #English
My inner Lois Lane has many questions about this farewell. "How" and "why" is at the top of this questionnaire. Along with a lot of others that no-one wants to answer.
My inner child wants to throw a tantrum because I can't get my way. Which probably shows that one is never too old to get a hiding.
My inner romantic is certain that a knight on a white horse (or perhaps in a 4´4) will come rushing in at the eleventh hour to save everything. Maybe I should go for another eye-test to get rid of these rose-tinted lenses.
My inner teenager has decided to mope about and blame the universe for everything that's going wrong. Maybe I'm actually the age of my fictional friends…?
My inner Narcissus thinks that this farewell is all about me: if it weren't for me, this adieu would never have happened. Writers need healthy egos, but this is going just a tad too far.
My inner I, the smallest babushka, watches dumbfounded as this short-lived relationship comes to an end. And there's nothing I can say to make things better. To say farewell is part of life. Unfortunately it doesn't matter how many times you go through with it, it doesn't get any easier.
Thank you for bearing with me while I grieve the loss of not only a place to write in my mother tongue, but also the loss of friends I'd made that I probably will never read or write with again.
Woes, in Afrikaans, means: wild [wild], ru [rough/coarse], onbeskaaf [unrefined], onordelik [disorderly].
Incidentally, woes is the plural of woe which means "grief" in English…
There may follow a couple of other stories in the month ahead before Woes finally closes its web-doors. I'll just add links to them at the bottom of my posts to follow if I'm still doing this whole grieving thing.
"When your nearest wall is burning it becomes your concern." – Horace
Fellow scriveners: any stories of woe you'd like to share (the kind where you lost writing buddies or writers' groups)? And how did you recover? Did you go through the five stages of grief (denial, anger, bargaining, depression and acceptance)?
Sign up for my newsletter and receive a free ebook. I won't share your information and I'll only email you once a month with updates on new releases, special offers, and a bit of news.