To make the post about saying farewell to Woes a little shorter, I placed this part (the short story I wrote about "farewell" as the theme) here in both English and the original Afrikaans. I hope you enjoy it.
A (Nearly Vociferous and Vicious) Farewell #English
I ran after him down the stairs. I couldn't lose the love of my life like this. The stupid hole in the sidewalk which we should've fixed a long time ago stopped me by almost breaking my ankle. Swearing, I came to a standstill and looked up.
My ankle throbbed; I couldn't walk any further. Upset, I watched how Stephen walked away from me; he didn't look back even once. The green t-shirt he had on stretched over his broad shoulders. I could see from where I stood that his fists were balled, knuckles probably bone white. But his back was kept straight as he walked further and further away.
It's over. Without any reason.
And he refused to tell me why he ended things between us.
I stuffed my fist into my mouth and screamed. I screamed all of my frustration, all my pain, into the muffler my hand had become.
For seven months we were together. For seven months we laughed, cried and fought together. For seven months I gave this relationship my all.
For what?
My body began to shake; I'd stopped yelling a while back; I gasped for breath that just didn't reach my lungs.
I knew that once the shock was over, the ugly me was going to appear. The ugly me that says and does things that I don't really mean; that creature that can only fight because there's no higher reasoning left.
A prolonged honking made me look up. It was late enough that minibus taxis were calling their clientele closer so they could take them home. The African sun was still sitting high; it was late summer and twilight only came after all the soaps were done running on TV. I looked around me. The world hadn't come to a stop. Even though it had felt to me like my world had shattered – exploded like in a sci-fi movie – nothing had changed for anyone else.
"Lelanie?" a voice asked hesitantly.
I turned around. Christina stood and watched me guardedly.
"He's gone," I said softly.
"I'm sorry."
I nodded. There wasn't much more we could say to one another. The person I wanted to talk to had walked away; no explanation forthcoming.
She took my hand – a big gesture from someone who never likes physical contact – and led me back to the entrance of the building we've known for a long time wasn't an ordinary apartment building.
I hobbled up the stairs. Christina didn't say a word. We walked through the doors directly opposite the entrance. The world changed and I found myself in the head office of the embassy between Man and Fae.
Well, it used to be the embassy. Now it's a war office. No-one really knew why the Dark Fae had decided to attack the human race after centuries – no, millennia – of peace. But, it didn't really matter. All we knew was that we were at war, a secret war, with the Dark Fae and that we had to keep the rest of the human race out of it.
"Where's Stephen?" Lizelle asked when we walked into the lounge.
"Not now," Christina warned her while she helped me to get settled on a couch.
Lizelle didn't ask again. I had no idea whether it was the fact that Christina had held my hand or the expression on my face that had kept her quiet. I didn't want to know either way. We were family, but it didn't mean that I wanted to share everything about myself all the time.
"Stay here, I'll bring ice for that ankle," Christina said and walked away.
I barely had time to start brooding when General Webber walked into the room. Immediately the room filled with the other soldiers in the war against the Dark Fae. Christina quietly sat down next to me and gave me the icepack she'd collected.
"Friends, we are going to have to open another office. We cannot get everywhere fast enough when the enemy strikes. I'm certain that this doesn't come as a shock to any of you." General Webber sighed and looked around him. "I've already divided the group to the best of my abilities. I cannot keep everyone who has power over the elements in one group. Neither can I keep our best fighters in one group. I…"
I could see that he was scrambling for words. We've always only sent out the best of the best to fight. With this new divide it meant that everyone would have to fight. Even Lizelle who was better at tending wounds and fixing weapons. I quickly looked away from her ashen face.
"Captain Stephen Odendaal will lead the new outpost. The list of everyone going with him is on the fridge. I'm sorry," he said after a moment. "I wish I could have said that we had more people to fight with us. I wish I could've said that the Faery Queen had made a plan and brought the Dark Fae under control." He looked away.
Silence had fallen over the room. I couldn't look at anyone. I couldn't decide whether I wanted to be on the list on the fridge or not. If I am, I can force Stephen to talk to me. If I'm not… then I can stay near my oblivious family who only see me occasionally.
"We still have tonight and tomorrow together. Find out where your new post is and make peace with it," General Webber said before leaving the room.
I was sure that I saw tears in his eyes.
"Stay here and I'll go look at the list," Christina said before weaving through the others in the room.
Movement at the side-door made me look in that direction. I gasped for breath. Stephen.
Our eyes met. Something unreadable flashed in his before he looked away.
"We're both staying here," Christina said softly when she sat down next to me again.
I nodded that I've heard her. I could not decide how I felt. I did not know what I thought. I did not know what to think.
How much time passed since I saw Stephen walk into the room and our eyes had momentarily met, I don't know. My thoughts had gone their own way after Christina had told me that we were both staying where we were. I had noticed in my peripheral view how others were bidding each other farewell: tears, hugs, encouraging speeches and slaps on the back. But how could I take my farewell of the man that had meant everything to me the last seven months; the man who'd told me earlier that we were done; the man on whose side I'd fought Dark Fae since we'd met early winter?
And then someone new came to sit next to me.
Stephen.
"Christina had just chewed me out," he said with the smile that melted my bones.
I couldn't do much more than nod.
"I owe you an explanation. I'd hoped that it was clear to you why our relationship cannot work…" He sighed. "Against the Dark Fae, we're an amazing team. I'm not going to argue against that. But we've both confused the desire such life-or-death fights enflame for more than it is."
I stared at him with shock and horror.
"No," I said and shook my head. "No."
"Think about it, Lelanie. When we're not in the middle of a fight with supernatural creatures, we have nothing to say to each other."
"No," I started to feel dumb that it's the only word that I could say.
"Do you like cheese?" he suddenly asked.
"What?"
"Do you like cheese?" he asked again.
I knew that I was watching him like he had a serious brain-injury.
"Exactly," he said with a sad expression tugging at his mouth.
It felt like all of the air had been punched out of me. How couldn't I see that what we had wasn't real? We couldn't even have a discussion about cheese, as silly as it sounds.
Desire, that's all. He squeezed my hand in farewell and stood up.
Wow. He nodded at me and walked away.
I'd really thought that he was the one. I'd really thought that he loved me as much as I loved him – with an all-consuming love where nothing and no-one else mattered.
At least now I had an explanation. Even this half-hearted one he gave me was better than no explanation at all. My imagination would've dreamt up worse things – imaginary faults that could've driven him away.
It was a relief to know. Even though I now had all these new emotions to work through.
I watched his attractive figure walk away from me for the last time.
To paraphrase Pink: where there is desire, there is going to be a flame and someone's going to get burned.
I sighed as Stephen disappeared completely.
But getting burned and dying wasn't the same thing. I was proof of that. Hopefully I'd be strong enough to stand up and get on with my life. I could only try – no matter what Yoda has to say about it.
"Do or do not, there is no try." – Yoda.
'n (Amper Klou en Byt) Afskeid #Afrikaans
Ek hardloop die trappies af agter hom aan. Ek kan nie dat die liefde van my lewe sommer net so weggaan nie. Die simpel gat in die sypaadjie wat ons al lankal toe moes gemaak het stop my deur amper my enkel te breek. Ek kom swetsend tot stilstand en kyk op.
My enkel klop; ek kan nie verder loop nie. Ek kyk onsteld hoe Stephen van my af wegloop; hy kyk nie eens een keer terug nie. Die groen t-hemp wat hy aan het span oor sy breë skouers. Sy vuiste kan ek van hier af sien is geklem, kneukels heel moontlik spierwit. Maar sy rug hou hy regop soos hy verder wegloop.
Dis verby. Sonder rede.
En hy weier om vir my te sê hoekom, waarom, hy dinge tussen ons beëindig het.
Ek druk 'n vuis in my mond en gil. Gil al my frustrasie, al my pyn, in die demper wat my hand geword het.
Vir sewe maande was ons saam. Vir sewe maande het ons saam gelag, saam gehuil en saam baklei. Vir sewe maande het ek my alles in hierdie verhouding geploeg.
Vir wat?
My lyf begin ruk; ek't al lankal ophou gil; ek hyg na asem wat net nie by my longe wil uitkom nie.
Ek weet wanneer die skok eers verby is, gaan die lelike ek te voorskyn kom. Die lelike ek wat dinge sê en doen wat ek nie regtig bedoel nie; daardie wese wat net veg want daar is geen redeneervermoë oor nie.
'n Toeter laat my opkyk. Dis al laat genoeg dat minibussies hul kliënte nader roep om hulle huis toe te vat. Die Afrika son sit nog hoog; dis laat somer en skemer kom eers na al die sepies op TV al klaar is. Ek kyk om my rond. Die wêreld het nie gaan stil staan nie. Al het dit gevoel asof my eie wêreld aan skerwe gespat het – ontplof het soos in 'n wetenskapfiksie fliek – het niks vir enigiemand anders verander nie.
"Lelanie?" vra 'n stem huiwerig.
Ek kyk om. Christina staan en kyk versigtig na my.
"Hy's weg," sê ek sag.
"Ek's jammer."
Ek knik. Daar's nie veel meer wat ons vir mekaar kan sê nie. Die persoon wat ek mee wil praat het sommer net geloop; sonder 'n verduideliking.
Sy vat my hand – 'n groot gebaar van iemand wat nooit van fisiese kontak hou nie – en lei my terug na die ingang van die gebou wat ons al vir 'n lang tyd weet nie net 'n woonstelblok is nie.
Ek hinkepink die trappies op. Christina sê niks nie. Ons stap deur die deur regoor die ingang. Die wêreld verander en ek vind myself in die hoofkantoor van die ambassade tussen Mens en Fee.
Wel, dit was altyd die ambassade. Nou is dit meer 'n oorlogkantoor. Niemand weet regtig hoekom die Donker Feë besluit het om die mensdom aan te val na eeue, nee milleniums, van vrede nie. Maar, dit maak nie regtig saak nie. Al wat ons weet, is dat ons in 'n geheime oorlog met die Donker Feë is en die meeste van die mensdom daaruit moet hou.
"Waar is Stephen?" vra Lizelle toe ons die sitkamer instap.
"Nie nou nie," waarsku Christina haar terwyl sy my help om op 'n rusbank te sit.
Lizelle vra nie weer nie. Ek weet nie of die feit dat Christina my hand vasgehou het of die uitdrukking op my gesig haar stil gehou het nie. Ek wil ook nie weet nie. Ons is wel 'n familie, maar dit beteken nie dat ek alles omtrent myself altyd wil deel nie.
"Sit stil, ek bring ys vir daardie enkel," sê Christina en loop weg.
Ek het skaars tyd om te begin tob, toe kom generaal Webber die vertrek in. Dadelik vul die vertrek met al die ander soldate in die oorlog teen die Donker Feë. Christina kom stil langs my sit en gee vir my die yspak aan wat sy gaan haal het.
"Vriende, ons gaan nog 'n kantoor moet oopmaak. Ons kan nie vinnig genoeg orals wees wanneer die vyand aanval nie. Ek's seker daarvan dat dit nie as 'n skok kom nie." Generaal Webber sug en kyk om hom rond. "Ek het klaar die groep verdeel tot die beste van my vermoë. Ek kan nie al die wat beheer oor die elemente kan uitvoer in een groep hou nie. Ek kan ook nie ons beste vegters in een groep hou nie. Ek…"
Ek kan sien dat hy spartel vir woorde. Nog altyd het net die beste van die beste uitgegaan om te veg. Met hierdie verdeling beteken dit dat almal gaan moet veg. Selfs Lizelle wat beter daarmee is om almal se wonde te versorg en die wapens reg te maak. Ek kyk vinnig van haar bleek gesig af weg.
"Kaptein Stephen Odendaal gaan die nuwe buitepos lei. Die lys van almal wat saam met hom gaan het ek op die yskas vasgemaak. Ek's jammer," sê hy na 'n rukkie. "Ek wens ek kon sê dat ons meer mense gehad het wat kon saam veg. Ek wens ek kon sê dat die Feë Koningin 'n plan gemaak het en die Donker Feë onder beheer gebring het." Hy kyk weg.
'n Stilte het oor die vertrek geval. Ek kan na niemand kyk nie. Ek kan nie besluit of ek op die lys op die yskas wil wees of nie. As ek is, kan ek Stephen dwing om met my te praat. As ek nie is nie… dan kan ek naby my familie bly wat nog onbewus is van alles terwyl hulle hul normale lewens lei en my net dan en wan sien.
"Ons het nog vanaand en môre saam. Vind uit waar jou nuwe pos is en maak vrede daarmee," sê generaal Webber en loop die vertrek uit.
Ek's seker daarvan dat ek trane in sy oë gesien het.
"Bly hier, ek sal gou gaan kyk," sê Christina en vleg vinnig deur die ander in die vertrek.
'n Beweging by die sydeur laat my soontoe kyk. Ek snak na asem. Stephen.
Ons oë ontmoet. Iets onleesbaars flits deur syne voordat hy wegkyk.
"Ons albei bly hier," sê Christina saggies soos sy weer langs my kom sit.
Ek knik dat ek haar gehoor het. Ek kan nie besluit wat ek voel nie. Ek weet nie wat ek dink nie. Ek weet nie wat ek moet dink nie.
Hoeveel tyd verby gegaan het nadat ek vir Stephen die sitkamer sien inkom het en ons oë vir 'n oomblik ontmoet het, weet ek nie. My gedagtes het hul eie gang gegaan nadat Christina my meegedeel het dat ons twee net hier gaan bly. Ek het so half en half waargeneem hoe ander afskeid neem: trane, drukkies, bemoedigende praatjies en 'n klap op die rug. Maar hoe gaan ek afskeid neem van die man wat my alles was die laaste sewe maande; die man wat vroeër gesê het dat dinge tussen ons sumier verby is; die man aan wie se sy ek Donker Feë geveg het sedert ons vroeg winter ontmoet het?
Ek kom so half by toe iemand nuut langs my kom sit.
Stephen.
"Christina het my sopas uitgevreet," sê hy met die glimlag wat my bene nog altyd so lam maak.
Ek kan nie meer doen as net knik nie.
"Ek skuld jou 'n verduideliking. Ek het gehoop dit was duidelik vir jou hoekom ons verhouding nie kan werk nie…" Hy sug. "Saam teen die Donker Feë is ons twee 'n wonderlike span. Ek gaan nie daaroor stry nie. Maar ons albei het die hartsog wat sulke lewe-of-dood gevegte opgevlam het vir iets meer verwar."
Ek kyk geskok na hom.
"Nee," sê ek en skud my kop. "Nee."
"Dink goed daaroor, Lelanie. Wanneer ons nie te midde van 'n geveg met bonatuurlike wesens is nie, dan het ons niks vir mekaar te sê nie."
"Nee," ek voel al dom dat dit die enigste woord is wat ek kan sê.
"Hou jy van kaas?" vra hy skielik.
"Wat?"
"Hou jy van kaas?" vra hy weer.
Ek weet dat ek net na hom kyk asof hy 'n breinbesering het.
"Presies," sê hy met 'n hartseer trek om sy mond.
Dit voel of al die lug uit my geslaan is. Hoe kon ek nie sien dat wat ons twee gehad het, nie regtig-egtig was nie? Ons kan dan nie eens 'n gesprek oor kaas hê nie, so simpel soos dit klink.
Hartsog, dis al. Hy druk my hand in vaarwel en staan op.
Wow. Hy knik vir my en loop weg.
Ek het regtig gedink hy's die een. Ek het regtig gedink dat hy my so lief het as wat ek hom het – met 'n alles-verterende-liefde waar niks en niemand anders saak maak nie.
Darem het ek nou 'n verduideliking. Selfs hierdie halfhartige een wat hy my gebied het is beter as geen verduideliking nie. My verbeelding sou soveel erger dinge voorendag mee gekom het – foute wat ek nie regtig het nie, maar hom kon wegdryf.
Dis 'n verligting om te weet. Al moet ek nog al hierdie nuwe emosies verwerk.
Ek kyk sy aantreklike figuur agterna vir die laaste keer.
Waar daar begeerte is, gaan daar 'n vlam wees. En waar daar 'n vlam is, gaan iemand brand. Maar net omdat jy gebrand het, beteken dit nie jy's dood nie. Ek's bewys daarvan. Hopelik is ek sterk genoeg om op te staan en aan te gaan met my lewe. Kan maar net probeer – al sê Yoda ook wat oor "probeer".
*The Afrikaans version of this short story was first published on Woes.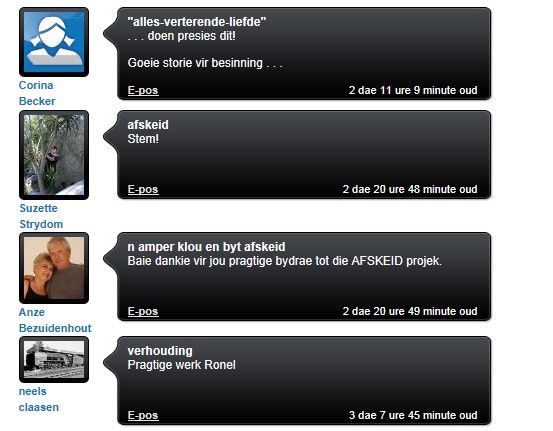 Though it was read 49 times by the time I published this post, only a few commented. Positively, I might add. *sigh* I'm going to miss the feedback I got on my work from my Woes-family…
How about you, scriveners: any stories about farewell you'd like to share?
Sign up for my newsletter and receive a free ebook. I won't share your information and I'll only email you once a month with updates on new releases, special offers, and a bit of news.